Pharmacist Discusses Ozempic & Menopause : Amy Wilson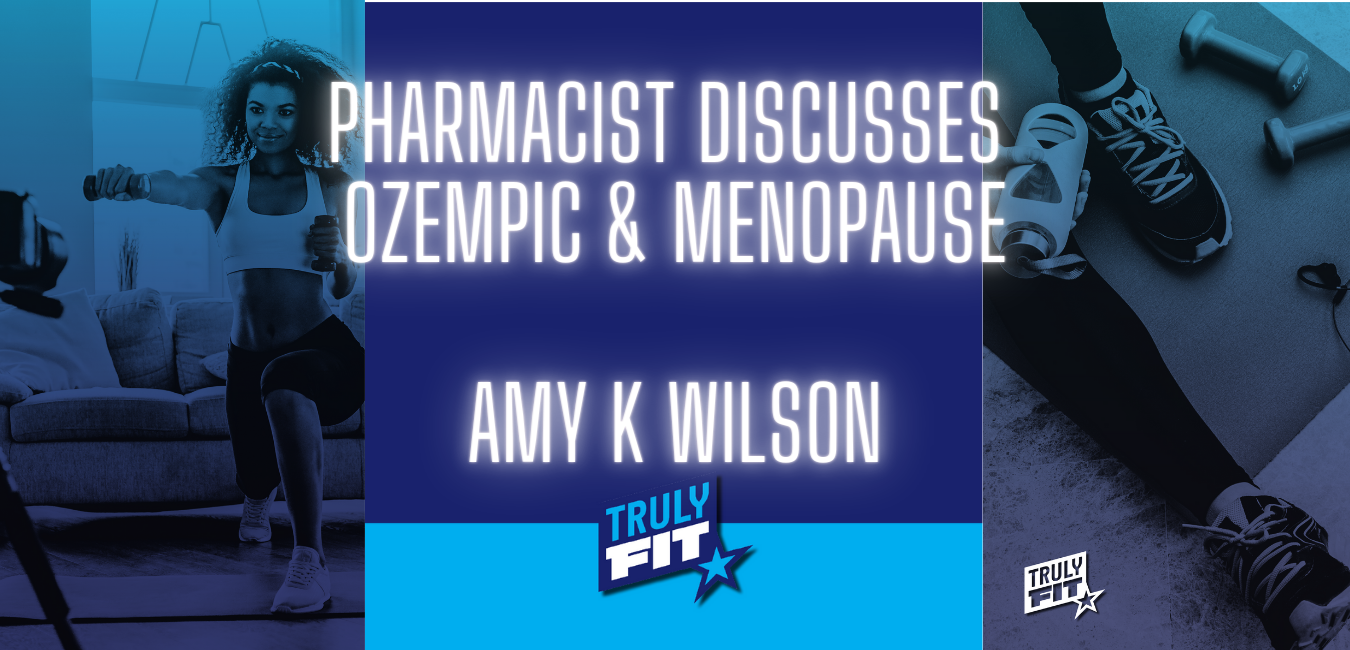 CLICK FOR AUDIO OF PODCAST
Guest: Amy Wilson
Release Date: 7/31/2023
Welcome to Trulyfit the online fitness marketplace connecting pros and clients through unique fitness business software.
Steve Washuta
What does those epic do in our body? mechanistically? What side effects are we seeing now and likely to see coming from this craze? How can menopause affect my client physiologically? How can I bring up the conversation around menopause? We talk about all this and much more on the upcoming episode. Welcome to truly fit.
Steve Washuta
Welcome to the True Fit podcast where we interview experts in fitness and health to expand our wisdom and wealth. I'm your host, Steve Washuta, co founder of truly fit and author of fitness business one on one.
Steve Washuta
On today's episode I speak with Amy Wilson, you can find her at the nutrition coach pharmacist on Instagram, she has a link tree there with the rest of her links. She is a exactly what it says a nutrition coach pharmacist, she's a pharmacist by trade, and now she dabbles in the world of nutrition coaching as well as personal training.
Steve Washuta
Today, we're going to talk about everything from menopause, how to deal with clients who are currently going through menopause, maybe how to have the initial conversation with clients on your health history form and then how to proceed from there.
Steve Washuta
We're talking about a bunch of different medications, and how they could potentially interact and what we need to be worried about with clients who are on these medications.
Steve Washuta
And when we also talk about the issue we have with clients and the scale and then being so obsessed with cardio and eating less and not focus on whole foods and eating more protein and lifting heavy and the things we know that really helped clients lose weight and become healthier.
Steve Washuta
With no further ado, here's Amy Wilson and I Amy, thank you so much for joining the truly fun podcast. Why don't you give my listeners a little background on who you are your credentials and what it is that you do day to day in the health and fitness industry.
Amy Wilson
All right, my name is Amy Wilson and I am a kind of like I say I try it. So I am a board certified geriatric pharmacist, a fitness professional and a certified nutrition coach. So my day to day job is twofold. I have a full time job where I am a Long Term Care Consultant, and I go into nursing homes.
Amy Wilson
I am also what I consider my my side business because I don't consider it a side hustle because it's really as a business is I am a virtual nutrition and fitness coach. So that's what I deal with day to day.
Steve Washuta
Cool, a geriatric pharmacist. So is this something that you have to go out of your way to specialize in? Is it new in the industry? How exactly does that work?
Amy Wilson
There are so when you go to pharmacy school, you become a generalized pharmacist practitioner. And then there are several things about 10 of them now certification so there is pediatrics, there's oncology. There is from a kid from pharmacogenetics there is medication therapy management and I have a specialty in geriatrics.
Amy Wilson
So it's a board certified certification, you'd have to take a test have to say up on your CE, just like everything I think everybody wants to see. And so yeah, so you know, you there's all there's there's not too many of us in the field, because geriatrics is a smaller field. But you will find pharmacist in every walks of life doing different things than just your normal corner store. There's a lot of us and other modalities.
Steve Washuta
So interesting. Never knew that. But it makes perfect sense. You have to think that with the amount of drugs and interactions and things of that nature, it would be smart to hyper specialize in one particular area so that you can help that population more. You can't expect one pharmacist to know, every single set of drugs for all demographics and populations.
Amy Wilson
Correct. And as if you're pediatrics compared to if you're just normal. I would say you know your 20s compared to I hate saying geriatrics is 55. But it is there's like no it's not. It's so as you get older, your body metabolizes things differently, your liver acts differently.
Amy Wilson
And so there are different ways that we all know there's like a there's a dose for men, there's a dose for for you. For for females, there's a dose for kids, there's a dose for adults. So it's one of those reasons why it's so important to and I would say talk to your pharmacist because if you're on medication, I am actually a medic, and we can get into this in a little bit.
Amy Wilson
I am a pharmacist who would prefer that you're not on medication, that you are using natural whole foods that you're using fitness to prevent disease states that are being treated not cured with medication.
Steve Washuta
Yeah, well, I second that I'm sure we'll get into that. But you have a lot of specialties. Right you have your toes dipped into a lot of the water concerning health and fitness. Today we'll try to touch on all of them. But I want to start with menopause.
Steve Washuta
A lot of women over the age of 40 workout with personal trainers. If I were to say if I were to go to a gym right now and look at 100 Different people who are personal training, it would not surprise me if 40% of them were women over 40 Were working out with personal trainers.
Steve Washuta
But as a personal trainer, I can tell you I've every certification under the sun, none of them focus specifically on menopause. None of them it was talking about the baseline certifications teach you anything or even hint at it. So So let's give it give us the 411 on menopause signs and symptoms and why it can play a role in like designing it for ran for someone.
Amy Wilson
So and it's, you would think that especially now and I'm Gen X, so the amount of menopausal women that are in the fitness as as clients, you would think that there would be so much more information. There are little niches that you'll see here and there, you'll see my YouTube you'll see my tick tock, but no one really addresses what's going on.
Amy Wilson
So if you are a personal trainer, and first of all kudos that they're seeing a personal trainer, awesome, because what most women will do is they'll go for the cardio machines, and we'll talk about why that's not a really good idea and menopause. So what menopause is the the true definition of menopause is going without a period or menses for one year.
Amy Wilson
Okay, great. But what does that mean? menopause or perimenopause, which is before menopause can really start in our 30s 3536 37. And that's when hormones start to change. And actually, hormones change all through our lives. But this is when hormones start to decrease and in females as estrogen progesterone and testosterone the way they do and the way they decrease is different in every single person.
Amy Wilson
Once again, what personal trainers have to realize it has to be person person centric, it what I do might be different than what the lady three doors down does. And it depends on our genetics depends on how we respond. It depends on what's going on our life and stressors.
Amy Wilson
So always think about, well, this one worked for this menopausal lady, so it should work here, not necessarily, I'm gonna give you some guidelines that will help but but remember, we're all different. So when estrogen starts to decrease, and what you'll see in older women, especially those who are cardio bunnies, is that they might start getting what's called the menopause, or the mental belly, so getting more belly fat, and estrogen likes to stay in the fat cells, and it will go towards the belly fat, so they might have a harder time losing the muffin top.
Amy Wilson
The problem is, is that a lot of times, women we've set ourselves up for this and to have more difficult in menopause, from everything that we did back in the day, and what we still do by under eating and overworking out. And another hormone that we don't talk about much being a problem in menopause is cortisol. Our cortisol levels also increase which affects our blood glucose, which affects how we're burning fat, which affects how we're sleeping.
Amy Wilson
And with menopause, a lot of the symptoms can be directly related to increased stress increased cortisol. So what are the symptoms, belly fat, which we already talked about hot flashes, and to explain a hot flash to someone who's never had one. It's not like like today it's ungodly, hot outside, you walk outside, it's hot, your whole entire body feels hot. For a hot flash, usually what happens it comes from the neck and goes up and almost feels like an internal flame. And it's not your normal heat.
Amy Wilson
It's not your normal feeling like an air air dryer or something blowing on your face. It is like an internal flame that you just feel like you're hot, and some people will become very sweaty, some people won't, and some people only get at night. And that's where we hear about the night sweats and they will wake up and totally drenched.
Amy Wilson
The problem with night sweats and hot flashes during night is now we're talking about not getting sleep and not getting sleep increases cortisol which increases blue blood glucose, which can increase body fat. So it's all these kind of like this cyclic kind of pot that is all these things are happening to everybody at once. And of course they get angry and and it's frustrating.
Amy Wilson
And what we didn't realize is that while we were dieting in our younger age, and we were burning muscle for fuel, because we didn't think that we thought that we were losing weight to get into our genes. And we thought we were losing body fat, which we weren't, we've actually set ourselves up to having worse menopausal symptoms, because the more muscle that we have, the better.
Amy Wilson
And as a trainer, that's some things you have to look at HIIT training a couple days a week. If someone's do an orange theory every single day, that puts more stressors on their body that actually hurts them to lose body fat instead of use body fat, it will actually cause them to use muscle which was what we don't want.
Amy Wilson
So a good lifting program. And it's gonna be hard, especially as personal trainers, you probably know the client that's like but I got to do the Stairmaster every day for an hour for an hour. I gotta go run three miles every day and it's hard to get them out of that cardio mentality and to have them understand that you know what? Cardio is not the answer.
Amy Wilson
If it was working, you wouldn't be seeing me and figuring out what is going to work for them because muscle is going to change the shape of their body muscle is going to help them feel better. And then also the big big thing is getting rid of ultra processed Foods and start eating real foods.
Amy Wilson
Getting their protein in getting their carbs getting their fat in not doing keto, because their thyroid, which also goes wonky in our in our 40s, and 50s needs carbs to function. So it's kind of a whole triad of things that you have to be looking at when when you're getting these menopausal perimenopausal clients.
Steve Washuta
Before we get back into the science, and we talk more about the lifting and the eating, I want to take a step back here from a harder question more of like a cultural question here. I think it's a difficult topic to broach when I sit down with a client, I have a health history form.
Steve Washuta
It's we talked about all the medications that they're on, if I don't know any research, or I go talk to a physician or I go talk to someone who might know if there's an injury that I don't know about, I talked to someone who does know about that injury, right, I need to have a good, well rounded understanding and scope of older former injuries, all the medications, they're on all of that stuff, which is important.
Steve Washuta
But I personally have never brought up menopause with my clients. I think it's a tough thing to bring up. And I don't want to say it's unapproachable. But it's certainly taboo. If you were working with a client who is in menopause, and you are, let's say a male or you were younger, how exactly would you approach that?
Amy Wilson
So and yeah, and that's it's a good point. It's a very good question. Because as a female, I was like, oh, menopause, right? And you and a guy like menopause. Right? And they might say, How dare you? Right? It is exactly. So I guess I would come from an as a practitioner point.
Amy Wilson
Do you think menopause is contributing to anything that you're doing right now? Do you think that's why you're having a hard time losing weight? When did you start seeing these symptoms and come through them? And as not a yes. You know, we always talk about open ended questions, right?
Amy Wilson
Not doing a yes, no, but coming through it as a practitioner, you have your form, you could put that in your form as a are you going through menopause or perimenopause? Do you think this is contributing to the issues that you have come to see me, and that opens up the door.
Amy Wilson
And if they feel comfortable, and most women, if, if they're looking at a trainer, and they picked a trainer, you know, you're going to be their psychotherapist, too. So it's just a it's just the nature of the business. And that's going to open up the door to talk about these things.
Amy Wilson
And to talk about maybe things that they did in their past. It's like, okay, so tell me where you occurred to cardio bunny, but were you someone who did cardio every day? What kind of dieting did you do in the past? And then we can start to educate on why those things that we did back in the day just don't work for us in this stage of our life?
Steve Washuta
Yeah, I think that was a great answer. Because if you have it in there in the first place, and they answered yes to it, I am currently going through menopause. I might be going through it soon. I'm in perimenopause, I'm not sure.
Steve Washuta
Then you can sort of use the Socratic method and just keep asking questions. Why do you think you're in it? Have you been formally diagnosed with being a menopause? What have you seen that's different going on with your body and so on and so forth. So that you open up the conversation from, like you said, a more practitioner standpoint, not a doesn't have to be tough, doesn't need to be taboo at that point?
Amy Wilson
No, because it does affect our bodies. And that's probably the number one reason that they're seeing a personal trainer or somebody in the first place. They're just not saying that in those terms. It's I've gained weight or nothing's working anymore, or I have this gut that I can't get rid of, well, those are all menopausal symptoms.
Amy Wilson
And so when we can put, hey, this is menopause, this is part of life, but it doesn't have to be this way. And we can do X, Y, Z, to start moving the needle forward, and then where in the direction that you want. And when you can kind of quantify that and say, Hey, this is what's going on one, they feel like, Oh, you're You're amazing. You're a magician, you know, you can read my mind, and that they also know that you're on their team to help them get to where they want to go.
Steve Washuta
You already mentioned the excess cardio ends up working against you, not for you. That's for most people, but certainly people who are going through menopause, but do you think it's more of a psychological barrier? So let me explain that. When you do like you get this runner's high the serotonin from doing these workouts, cortisol levels things of this nature and that is really why they stick with it not because they don't otherwise know better.
Amy Wilson
Um, I think it's both and I'm going to you know, I'll throw myself under the bus on this one. I am a diagnosed exercise addict when I was 29. I blew my L five s one and had back surgery and it was from being addicted to exercise. I don't think it was a yeah the high was amazing.
Amy Wilson
I was addicted to the endorphins but it was also was trying to out train a bad diet at that time and thinking that that was what's going to keep me skinny and I think we've been Miss informed so much in the media so much. And we go to the doctor's office, oh, you will lose five pounds, okay, you need to work out more, eat less and that still is in everything that we do.
Amy Wilson
And even though we know better we know better. Not everybody else knows better. And it's still out there. So the first thing that people do is like, Oh, my geez, don't fit. I must need to run an EXTRA MILE I need to add, you know, Sunday is my day off. Nope. Now I got to now I have to add that mile in on on Sunday because you need to work out more, eat less. And I think that's the problem.
Amy Wilson
And yeah, there is that high. But I think there's also not the knowledge to know what's going on. And I think we do a disservice disservice by not informing and educating our clients as to why this doesn't work and talking about hormones, because when I start having that conversation with my clients, they're like, ding, ding, ding, ding, oh, my gosh, okay.
Amy Wilson
Everything I tell them, tell them. It's like, this is why excess cardio hasn't been working for years. And this is why your body hurts. And this is why you have brain fog. And this is why you're waking up in the middle of the night. And it's all of a sudden, it's like, oh, I didn't realize all I thought was I needed to work out more, so I fit in my jeans.
Steve Washuta
Yeah, I think part of the problem is that most people fail when they go on these diet regimens, or workout regimens. So they're attributing the lack of production, for lack of a better term to them just failing, like, I just, I just keep with it.
Steve Washuta
I only did it for two months, not gonna do for three or four months, I gotta do for four months. But it's like, no, no, your plan was wrong in the first place. It's not that you're not invested in your plan properly. It's just that you're going too hard on the cardio, you're cutting calories too much. Your body is basically saying you're starving me, we're not going to lose any more fat.
Steve Washuta
And I've had to convince my clients, especially women, even more than men to say, hey, we actually have to up the protein intake, we have to start lifting heavier. I know this sounds counterintuitive, but just stick with me for six weeks do this with for me for six weeks. If you don't think it's working, then we can try something else. And, and lo and behold, it always works
Amy Wilson
well. And because everything that we've been told is that you eat more, you're going to gain weight, you don't move, you're going to gain weight, everything we've been told, and we believe that and I always tell my clients if it was working, you wouldn't be here.
Amy Wilson
You wouldn't. And so trust them. I trust the process. Trust me for six weeks and same thing. They're always amazed they do they freak out. Oh my gosh, do they freak out? When they see how much they have to eat there? They're like, I'm gonna gain weight. I'm gonna gain weight. I'm like, But how is starving working for you right now? Is it working?
Amy Wilson
No. Okay, so try it my way and see what happens. But we're still in that we have that fight within our brain. And what those voices in our head are telling us is that I eat I get fat. And that's from childhood. That's from our teenage years. And it's a lot of unpacking, it's a lot of undoing. It's a lot of relearning things that we thought were right that are actually wrong. But it's
Steve Washuta
also in the science too. So even law thermodynamics, right, it tells you Well, no calories in calories out so simple as that. It's like no, nothing is simple in nutrition that it's not, it's more than that it's 1000 calories of broccoli and steak is not 1000 calories of cake. Like it's not just calories in calories out.
Amy Wilson
Our bodies don't do the law, thermal thermodynamics, and I don't I don't understand why we think it does. Our body is one big chemical reaction. It has nothing to do with calories in calories out. It has everything to do with what we're fueling our body so that those chemical reactions can work. We fill it with Snickers bars, those chemical reactions don't work, we fill it with Snickers bars. Our gut microbiome is crap.
Amy Wilson
And now that we know that our gut microbiome, which is now called our second brain has so much to do with how we processed foods and our hormones. And if we don't feel it with the proper nutrition, the protein, the fat, the carbs, the micronutrients, those chemical reactions cannot happen.
Amy Wilson
So our hormones are not optimized. Our neurotransmitters are not optimized, we will age faster. And it's not it's it has nothing to do with calories. It just drives me nuts. Sorry. So Fox, no, I
Steve Washuta
completely understand and speaking on that people in the diet world are always trying to get a leg up. They're always trying to cheat the system, if you will. ozempic is all the rage now in the news, there are people taking it who shouldn't be taking it and maybe you think that nobody should be taking it.
Steve Washuta
Can you explain what's going on both from a trending perspective? Why it is everywhere? And then also from a mechanistic mechanistic perspective? What are those in our body?
Amy Wilson
So ozempic I hate to say it's like, is it staples that has the easy button, you know, it's like it's easy button and and we all want it when I was a retail pharmacist, people would come in with the latest Dr. Oz thing that was shown that would show lose weight or the latest supplement, because we don't want to think about it. We want something that maybe is a shake or a packet.
Amy Wilson
We don't want to have to work at it. The problem is is that we really do and I don't think it's a problem either. I think it's just the way that we look at things. We need to work on our nutrition. That's where it comes from. ozempic was really originally for type two diabetes to help with glucose control. The side effect was a 10 to 15% in weight loss.
Amy Wilson
Well, physicians have never really had anything that they can do. If somebody comes in and says, or they want somebody to lose weight, they'll say, Oh, I know physicians who say go low carb or workout more, eat less. They've never had some that they can say, here's a prescription. Here you go. Now they do. But the problem is is the way ozempic works.
Amy Wilson
So ozempic works by increasing secretion of insulin by decreasing the amount of glucagon that goes in the system. And by slowing down gastric motility, and that's what you're going to hear the most from clients or people who want to take it, it makes them feel full, it makes them feel like they're not hungry.
Amy Wilson
So they're going to lose weight. The problem with that, and we're already seeing it, I wasn't, I was saying, five years, we're gonna start seeing issues, I don't think we're gonna start seeing issues in five months, and we're already seeing it is the decrease or the total stop and gastric motility.
Amy Wilson
And that means you're not going the bathroom, that means foods not moving. And if you think about something like colon cancer, that is caused by lack of fiber, ultra processed foods, foods just sitting in the colon and not moving. I mean, we'd get rid of toxins three ways we either sweat it out, we peered out, we put it out three ways.
Amy Wilson
And that's just the way it is. If you have that stuff that's just sitting there, and it's getting absorbed, the toxins are your body's not able to get rid of it. That's not a good thing. If you have total what's called gastroparesis, where you're where your GI motility, gastric motility stops, that can be a lifelong occurrence it you will have stomach and gastric issues for the rest of your life.
Amy Wilson
Because you wanted to lose 515 20 pounds. That is to me that that is your weigh your pros and cons. And this might be controversial. But when the COVID vaccine came out, people were like, Oh, I don't wanna put that in my body. I don't know what's in that I can't do that. You know, we don't know what's going to happen in the years.
Amy Wilson
But we have a flatbed term vaccine that will help you lose weight. And it's signed me up, where can I get this? How can I get this? How much does it cost? I don't care, you know, and in personal trainers or in trainers, and I'm like, Well, man, you won't spend $199 For me, but you're gonna spend 1000s of dollars on this medication.
Amy Wilson
And, and I get it, it's the easy button is it's wanting to be thin, but thin does not equal healthy. And that's what we have to have to get rid of is thinking that just because you're skinny, just because you are this thin or you're getting to these jeans, doesn't mean it's it does not mean it's healthy.
Steve Washuta
Yeah, and I would even add to that vanity doesn't mean you're healthy in general, you could you could have 6% body fat and still be unhealthy. Right? So healthy health is in our laps. And other than our abs. That's what I say I don't even work with clients who won't send me their labs.
Steve Washuta
And I can do that because I own my own business. And if they say no, then I say See you later, go to another trainer, I need to know what's going on in your body, not just how you look. But I think you know, another problem here is that people will, especially the general population only looks at the scale.
Steve Washuta
So as personal trainers, we have a lot more measurements to do not only just talk about labs, but I have measurements, I measure, measure my clients, everything, hips, waist, arms, all these different measurements so that we can look at okay, what else are we building? What else are we doing to look at measurements and I think that's important for the general population understand the scale weight doesn't say everything, or sometimes it doesn't say anything,
Amy Wilson
anything on the scale. Wait, tell us how much gravity you pull down onto Earth. That's all it does. And I tell people unless you have congestive heart failure, you should not be on a scale and congestive heart failure. We're looking at how much fluid you're gaining. So I tell him, I tell my clients, if you're losing weight really fast, that's not a good thing.
Amy Wilson
That means you are losing muscle and that you are losing muscle and you are keeping fat because I'll have people who lost 30 some inches, and then they're mad at me because they didn't lose in it. They didn't lose a pound. I'm like, that's amazing. That means you lost body fat that you increase lean muscle tissue. I said that's great.
Amy Wilson
Don't get off that number on the scale. And as females that's hard. We have an emotional attachment to the scale. And sometimes sometimes men do sometimes no, I've had both clients that have are both, but females definitely have a number they want. They have an emotional attachment. They think that's gonna open up the doors and it's gonna be rainbows and unicorns, and Hello Kitty and my job's gonna be amazing.
Amy Wilson
My marriage is gonna be amazing. But that number does not equal happiness. It really doesn't. And I wish we could totally get off the scale I have my clients take pictures every week or every two weeks because when they start seeing them from a different perspective, because we see ourselves every day we don't see the changes.
Amy Wilson
But when you can start looking at changes over time in a picture. It's it's amazing what They will see is like, oh my gosh, look at this. I'm like, yeah, and who cares about the scale? Right? Because that's the whole idea was that you want it to look better. You want it to feel better. The scale does not measure that.
Steve Washuta
I will say much like an addiction, though I have some clients I've been working with for over 10 years, and they still are not over it. You understand? I have to remind them, hey, listen, how do you feel? How do your clothes fit? Great, my clothes fit great. I've never felt better.
Steve Washuta
Okay, well, what's wrong? Well, by the scales, two pounds heavier. But they it's still ingrained in their head. And I don't know if they'll ever get over it. But I have to just continue to remind them, it's just a part of who they are.
Amy Wilson
Yeah, it's trying to understand that that scale just means absolutely nothing. And the bad part is when you go the doctor's office, of course, they they weigh you and I know, I know, females who don't go to the doctor's office, because they don't want to be weighed.
Amy Wilson
And that's something that's, that's not good. And we just need to get away from thinking the scale equals health because the scale is just a number. It's another tool that we use, but it doesn't define you.
Steve Washuta
This is a random thought. But in the bodybuilding world is actually sort of the inverse. So they brag about how much they weigh. There's, there's these big viral videos that go around where guys will come up to them, like in the middle of like autograph signings and be like stuff on the scale.
Steve Washuta
You said, you wait to 90, and they like, oh, well, you know, I haven't been eating and they weigh 270. And they're like, embarrassed. It's such, it's so funny how the scale is in all basically all of the I would say negative vanity parts of health and fitness on both ends, literally on the heavy and in the late end, the scale plays a negative role. That's so
Amy Wilson
right. I mean, that is that is a totally different kind of you're thinking about it's like, oh my gosh, they're they're saying, I'm 20 pounds lighter. How could I be? How could I be in a female's? Like, oh my gosh, I'm 20 pounds lighter, and they're so excited or 20 pounds heavier, and they feel defeated. And it is that we we have to get rid of the emotional attachment to that to that number to a scale.
Steve Washuta
being somebody who works both with medications, like as a pharmacist and somebody who works more in now just the the health field, how does that either help you? How does that hurt you decline say, Oh, this is great, you know, the intricacies of what's going on in my body? Or do they think that you're going to be prescribing the medication?
Amy Wilson
Now actually, it's the it's, it's, it's really helpful. So I go by the nutrition coach pharmacist, I will just like you, I want labs, I want to see what's going on. I want to see the labs that they have, because those are great markers.
Amy Wilson
The other thing is if somebody is on levothyroxine, or thyroid medication, somebody's on a blood pressure medication, whether it be a beta blocker, ace inhibitor, they work differently. If somebody is prediabetes or diabetic, so what the beautiful part of it or if they even on their antidepressants, rings and zeal, anti anxiety medication.
Amy Wilson
I know what they need to look out for as they're getting healthier. So if you are a trainer and that is not something that you ask if they're on medications, you absolutely must, because what's going to happen is if somebody has chronic inflammation, if they are on cholesterol medication, high blood pressure, medication, diabetes, they will have side effects from getting healthy.
Amy Wilson
And they may not realize that their medications need to be adjusted. Not do I adjust their medication. Absolutely not. I'm working with their physician. Like I just had a client in her second week, her blood pressure bottom because and she wasn't feeling good. I'm like, Okay, I need you start taking your blood pressure every single morning.
Amy Wilson
And she did and I'm like I need you to send those to your physician see what they want to do. They actually took her off her her blood pressure medication. But that is I've had people mindig decreased. I've had people who have gone off. Same thing with diabetes medication as someone's losing the chronic inflammation, someone is stabilizing their blood sugar, they may get dizzy, they may have headaches, they may feel nauseated.
Amy Wilson
What we don't want is them to self manage. It's definitely working with their doctor. And we also don't wanna say Oh, well, you know, it might be the flu. Oh, it might be something that you ate, and understand that there are things as we get healthy when you are over. It's almost like an overmedication because they don't need that much anymore.
Amy Wilson
Their body starting to respond to food, their body's starting to respond to getting muscle and as you get muscle you get more insulin receptors so your blood glucose is going to go down. There's all these things that are happening in a good way. But we also don't want them to think that it's I just don't feel good when I work out well there's there could be a good reason and it may just be that it's just a matter of decreasing your medication.
Amy Wilson
So being a pharmacist has definitely helped me know disease states especially I'm a long term care pharmacist seeing younger and younger and younger people coming in as patients and seeing what Ultra processed foods does see an increase in stroking younger res It hates same residents, but patients residents, seeing increased type two diabetes and diabetes and seeing what a poor nutrition poor fitness does not in your 80s and 90s, but in your 40s 50s and 60s, and we can prevent that.
Amy Wilson
And as trainers, as nutrition coaches, we have a huge, I would say responsibility, but it is a responsibility to help this nation to quit using supplements that are dangerous, quit using medication that you don't need to use to have the easy way. But to educate and to really get out there that it is possible to get where you want to go. By working out smart, by eating healthy, by doing the things that you never thought that you should and and beings being you can be amazing. You can age backwards by doing all this. So
Steve Washuta
where I do think you have an advantage, well said by the way, where do you think you have an advantage? So credentials wise is let's say I have a client, they are on Metformin type type two diabetes, and they have transformed their life, they're working out four days a week, we've changed their diet, they're eating whole foods, they're working out, yada, yada, yada.
Steve Washuta
Now, the doctor is going to assume it's the Metformin that has taken me that a one C levels down, I know that it's their lifestyle changes, so I can't fight them to get off this medication that is having potential side effects where you might be able to say something to the doctor or the patient to get them off.
Amy Wilson
Well, and I can also say, hey, there a one C is 4.9. Seriously, you know, there's, there's also the thing called hypoglycemia. And you know, I can actually can call it talk to the doctor say, hey, they're doing XYZ, let's take them off.
Amy Wilson
And in 90 days, let's check and see where the a one C is, are we staying below 5.5, if we are great, they don't need to be on this medication is the same thing as somebody's on blood pressure medication, because the problem is, is they're not usually on one medication, more than likely they're going to be on three or four medications for something.
Amy Wilson
If we can start getting rid of that, and if they are having, you know, their blood pressure is not getting between 120 over 80 consistently, and you actually get lower than we can then I can go the physician. What I do is I send them all their readings and like, okay, what can we do? usually they're pretty happy to like, I don't know what you're doing, but keep doing it. And it's like, well, you know, diet, nutrition does a lot.
Steve Washuta
Another question that just popped in my head, so I'm looking at a health history form. And I see a client, like you said, typically, I my clients are either on zero medications or they're on. That's just how it works. Right? So let's go ahead and say it's the ladder, they're on a zillion medications, what what do you advise a personal trainer to do? Should I go onto the internet?
Steve Washuta
Go on to somewhere and look up? What all these medications do? I obviously can't see all how they all interact. But should I have an idea and write them all down so that I feel more comfortable? I
Amy Wilson
would so first of all, classify them all, what are they so more than likely, you're gonna see high blood pressure, hypertension, you might see high cholesterol, and you'll see diabetes, you might see asthma or something like that. But more than likely, it's gonna be those big three, classify them.
Amy Wilson
And then also look at what are some of the side effects because some high blood pressure pills, you have to be very careful, especially their diuretics that they do cardio, they could get overheated. There, most people aren't on that medication. But actually, there are some younger women. It's called spironolactone, who will be on it for PCOS who will be on it for acne.
Amy Wilson
Their doctor probably told them at one time, Hey, make sure you don't get overheated, and they probably totally forgot. So look up those medications and then look up common side effects and what you want to look for, but know that if they're getting better, that is a big, big thing for especially for someone with with blood pressure medication, as they lose the inflammation as they get in shape as they are eating better and they start lowering their blood pressure, they will get what's called orthostatic hypotension.
Amy Wilson
That is standing up quickly. We've all done before and all of a sudden, you're tunnel vision you feel like you're going to pass out as a trainer, especially with lifting weights, that can happen quite a bit. And it may happen several times in a session.
That is a key indicator right there that they're going to need to talk to their doctor about their medication and that they should be checking their blood pressure every morning to see what it is.
Amy Wilson
Same with diabetes. And if they're if you're if they're feeling nauseous during a training, if they start having really bad headaches, or they're, you know, maybe even feeling dizzy. It might be that their blood sugar is going way too low because now we're balancing their blood sugar.
Amy Wilson
Now we're not having those spikes. Their insulin is working better their resistance is their insulin sensitivity is up the resistance is down. And once again that might be something that they have to decrease
Steve Washuta
What if a client I'm asking you some tough questions here. And if a client is on something that has appetite suppression like nuvigil, Provigil, ADHD medication, how do you work with them?
Amy Wilson
I love these questions. Thank you. These are great. Keep doing them. So yeah, so there are medications that do cause appetite suppressive. So I train and teach macros, macronutrients and macro tracking. What we do is also look at what's the reason somebody's on this because people might be on it for what's called off label.
Amy Wilson
So when you also see the medication if it's not high blood pressure, diabetes, if they're on Provigil, dividual, if they're on ADHD medication, what are they on it for? Are they on it for narcolepsy? Are they on it for ADHD? Maybe they're on it for refractory depression, there's other things that they could be on it for beyond and then also education's Okay, let's go from macro, macro dense foods that will get them more bang for their buck.
Amy Wilson
It might be Hey, you know, we need some carbohydrates here. So instead of just a salad, we're going to give you some oatmeal and some bananas and things that will we'll get some of your carbohydrates up. So if it isn't, once again, it's working with that person. And if that person is never hungry, there might need to be a dose decrease.
Amy Wilson
There might be that when was the last time they saw their physician and I hate to say it Lafosse is just throw medications and a dose out they're not titrating and when you are eating better, when you are lifting when you are getting your movement in your neurotransmitters start to work better your gut health gets better we know that gut health actually helps with anxiety depression, ADHD.
Amy Wilson
Jamie Oliver is a great one who's done I don't know how many studies in the UK showing kids who get whole food nutrition have less behavior have left ADHD is the same in adults I see it all the time with some of my clients with with an analytics or anxiety medication and antidepressant medication they're able to slowly come off of those just by eating better because Ultra processed foods remember I said our bodies a chemical reaction if we're feeding it junk, we're getting junk.
Amy Wilson
You don't you don't do a Ferrari and go into the gas station and put regular regular fuel on it you put optimum you put the supercharged stuff in it. The same thing with our body our body is not meant to survive or thrive on processed foods on chemicals. It's meant to our bodies are smart.
Amy Wilson
There's a reason why we grow vegetables there's a reason why we have real food because that's what our bodies want they don't want the stuff that's created in a lab. They don't want the bright blue the bright Pink's the things that look pretty. They want they want the actual stuff. And we have we've trained our bodies not to want the actual stuff which is what we need to retrain as trainers.
Steve Washuta
Amy this has been fantastic information when you give my audience or listeners a websites and Instagram handle or anywhere else that they can find you
Amy Wilson
they can find all my social media stuff on Amy K wilson.com. That's Amy K wilson.com. If you guys are have questions or you want to talk or you think about working with me, you can go with call with Amy dot live and schedule a 30 minute free consult.
Steve Washuta
Go ahead and schedule it. It's free. My guest today has been Amy Wilson. Amy, thank you so much for joining the truly podcast.
Steve Washuta: Thanks for joining us on the Trulyfit podcast. Please subscribe, rate, and review on your listening platform. Feel free to email us as we'd love to hear from you.
Thanks again!
CLICK FOR AUDIO OF PODCAST