All Things Eggs : Jessica Chandler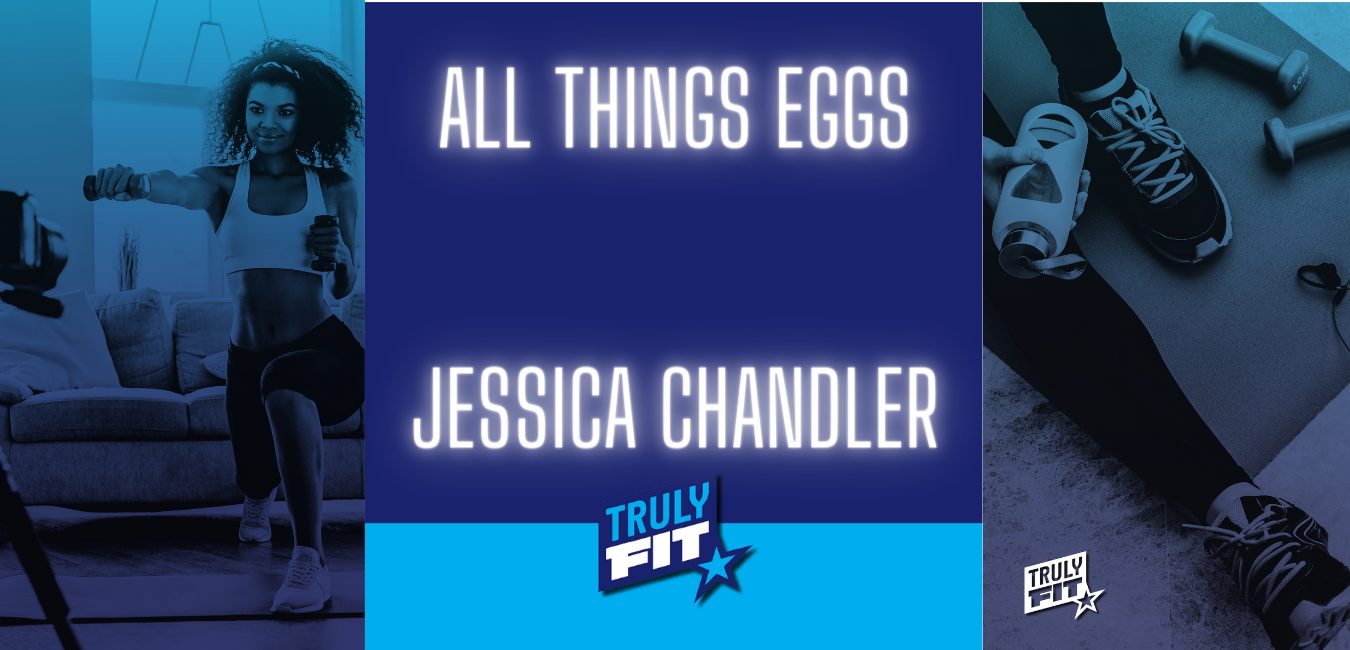 CLICK FOR AUDIO OF PODCAST
Guest: Jessica Chandler
Release Date: 1/23/2023
Welcome to Trulyfit the online fitness marketplace connecting pros and clients through unique fitness business software.
Steve Washuta: What is the difference between pasture-raised eggs and organic eggs? What exactly is a USDA organic label certifying any egg market? Or are vegetarian-fed chicken eggs less nutrient dense? What are the benefits of having your own chickens outside of just free eggs? We cover all this and more in our all things eggs episode.
Welcome to Trulyfit. Welcome to the Trulyfit podcast where we interview experts in fitness and health to expand our wisdom and wealth. I'm your host, Steve Washuta, co-founder of Trulyfit and author of Fitness Business 101. This episode is all things eggs I have on Jessica Chandler. Who from a Prudential standpoint as her master's in nutrition as well as health and wellness.
She is a health coach and nutritionist she works in alternative medicine. She works as a personal trainer. She works with people who have cancer and food sensitivities, you name it. She works in the nutrition, fitness and health realms of all sorts. She has her eggs in multiple baskets pun intended.
But today the conversation is going to be about eggs not just from a food standpoint. But how they're derived from chickens and the labels surrounding eggs. I think it's really intriguing when you go to the supermarket eggs are very expensive nowadays.
But what is the difference between free range and pasture-raised and organic? What do these terms mean in the ag world specifically? And it's not just important for me to get this information from a registered dietitian or nutritionist. I could have done that. But they're not farmers and biologists they don't understand chickens they just understand the protein behind eggs.
So I want to know how exactly it is derived from what is right and what is wrong from the chicken standpoint. Should the chickens let's say be outside all day long should they be not outside all day long? What exactly does a chicken roost look like? What sort of environment are they in?
And those things are important I think and they're not asked those questions are not asked so for those of you who are from the country and rural and rd. And all this stuff great good for you sorry, but I am a city boy and I think most people do not know the process behind having chickens and how they lay eggs. And maybe the difference between a chicken egg and a duck egg and things of this nature.
So it was a really fun conversation to do all things eggs. We talk about food and recipes, best practices for raising chickens and a host of other things. With no further ado, here's Jessica Chandler Jessica thank you so much for joining the Trulyfit podcast. Why don't you give my audience and listeners a little background as to who you are and what you do in the health and fitness landscape.
Jessica Chandler
Sure, I am a master-level certified nutritionist and I have clinical experience and hormone replacement therapy nutrition so it as well as medical weight loss. Nutrition programs and cancer client nutrition. So I have done that for a long time. I'm also a health coach, holistic functional practitioner. So I enjoy coaching people who are you know. Struggling with the nutrition aspect as well as their training so I also do personal training as well.
Steve Washuta: It's quite the resume most people will try to niche down to one thing. But you are like me a lot of a lot of different areas to work in. Sometimes that's good and pun intended here you have your eggs in multiple baskets. In the fitness and health world and we're gonna have a lot of conversation today around eggs. Give me sort of your your 411 on eggs. Why you would would give them to a client as far as like a good protein source.
Jessica Chandler
Sure eggs are a big topic right now. There's been a shortage so we definitely have seen that on the shelves you know the price has gone up I believe 60%. And just the year the avian flu pretty much hit crops hard this year so flocks and basically what happened is now the farmers are having to eliminate crops even if or crops blocks even if there's just one bird it that tests positive they are you know required to basically eliminate that that group of birds so you know, we're seeing not just an economic you know, crisis on shelves but we're also seeing it in the farming industry right now.
Jessica Chandler
So there's kind of two things happen at once. And so now you know here it is spring you know we have this Easter celebration stuff coming up. So there's all things eggs, you know, that are happening right now. So a lot of us are trying to double our flock you know and and help or like for example. I've had several neighbors right now that are like oh my gosh. I don't want to pay $8 for a dozen of eggs. You know because they're trying to purchase organic or you know, purchase some farm eggs and they are seeing the prices is that just crazy.
Jessica Chandler
So, yes, currently in my kitchen, I have two incubators going. And we have a little process of some eggs. That have just started some eggs that are going to hatch within the next few days. I have some young ones that are in my garage that will then move out to our barn here soon. So yeah, it's it's an adventure,
Steve Washuta: Before we get into maybe some specific terms of eggs. And go down through the organic and free range and these sorts of things. You just mentioned this. I want to go into it a little bit further. That people are seeing egg prices skyrocket. Are they you think replacing their protein with something else? Are they just eating the cost? Or are they buying cheaper X?
Jessica Chandler
Yeah, so you were talking about protein? Yeah, eggs are the nutritionists you know, biggest, cleanest source of protein. It's the most digestible source. So it has all of the amino acids that we need to build muscle, right? So, or even just not just muscle in the body. But there are several processes in the body that require protein.
Jessica Chandler
You know, and so, eggs are one of the easiest things that I can say. Hey, this is a clean source, you know, of protein for your diet, if we have a few of these during the day, I know that they're getting a great source. And there are several different dietary, you know, preferences, right. So, you know, even if I have a vegetarian, they may still eat eggs, it just depends.
Jessica Chandler
So it's really one of my favorite things to recommend. But as far as other sources of protein, I've really think people don't want to give up their eggs. You know, it's it's kind of the standard American diet to include eggs and eggs are in a lot of things as well. So they fortify other foods, you know. If I'm baking or making a healthy, you know, dessert, we'll say, you know, eggs are part of that healthy recommendation in there.
Jessica Chandler
So and then it goes to say, well, what's the debate on eggs have cholesterol, you know, the there they have, since, you know, tons of studies come out on basically saying that, you know, cholesterol that's in the eggs, is not a significant contributor to things like heart disease, what we're worried about with cholesterol.
Jessica Chandler
So there's better pros and there are cons with having your eggs in your diet and just knowing you know, if you go beyond having, you know, three yolks in the day, you then exceeded your cholesterol recommendation for the day. So you have to adapt and adjust. So, but when you do the breakdown, a lot of people wonder, you know, well, if I just see egg whites, you know, and take the cholesterol out, which is in the yolk, you know that breakdown and average grade A size egg has about six and a half grams of protein in it.
Jessica Chandler
Three 3.2 are somewhere around in there, three of it comes from the white where the other portion, it does come from the yolk. So if you do take out the yolks, you are then removing some of the protein as well.
Steve Washuta: So does that answer a lot of studies is a whole nother conversation. And again, it's a slightly above our pay grade and sciences ever changing. But as far as cholesterol is concerned, you need you typically need three variables for it to be a problem, you need to be overweight, you need to have high a one C and also eat or eating too much cholesterol in order for cholesterol to be problem, meaning, you know, I weigh 170 pounds I have I don't have any comorbidities or pre pre existing conditions.
If I have slightly high cholesterol, both let's say HDL and LDL, I'm typically not somebody who's going to be developing plaque and having clogged arteries. It's you know, there they point to the cholesterol, but there's usually a lot of other underlying conditions in patients who are who are having plaque and having these artery buildups due to the cholesterol not just the cholesterol itself. Well, and
Jessica Chandler
cholesterol is used in your body as well, you know, the good cholesterol is are used for hormone processes, you know, if, you know, all of a sudden I put somebody who's overweight, you know, on a low cholesterol diet, and they're struggling with low energy and we're working on things like testosterone, testosterone needs cholesterol to work, you know, so, you know, there's lots of processes in the body that, you know, we do need those things for, it's just whether we have balance or an overabundance, or like you said, comorbidities you know,
Steve Washuta: So let's start to define eggs and the terms around them. I go to the grocery store, I look at all these eggs. Obviously various prices we just talked about all those prices went up there's a there's eggs there that say nothing on them and there are 299 and then the next eggs go up and they might say organic and therefore 99 of the next one say free range and they're 699 How do I really know the differences between each individual one Why would I buy one over the other and whatever may be the nutritional differences between them.
Jessica Chandler
Sure, and this is this, I could talk on this so much, this is definitely a soapbox in our industry because labeling and marketing really tries to trick the consumer. So it really and then they take labeling from other industries and try to put it on to, you know, other products. So for example, you know, let's talk about three terms, just to keep it simple, you know, cage free, range free, pasture raised.
Jessica Chandler
All of those are lovely terms that are trying to get the consumer to think that they're being you know, a little less cruel. But cage free doesn't mean that they are cruelty free, right. So cage free basically takes the the bird out of a cage, that's about the size of a piece of paper. So eight by 11, that's the cage that that bird, if you can imagine, I wish I could go grab my rooster and hold him.
Jessica Chandler
So you can see the size of this bird, you know, and you're placing him in a size of a piece of paper. So they're overcrowded. So So what they did was they said, Okay, we're gonna take him out of the cages, we're gonna let them move a little bit, but the barns that they are putting them in, there's no regulation.
Jessica Chandler
So, you know, they're basically a big long, let's say, a Chicken Barn, if you've seen a Chicken Barn, with no division in there, and I know, we've seen media pictures, or if you have, you've seen a ton of birds on the floor. You know, that's the only requirement for a cage free bird doesn't mean they're not born free, doesn't ever mean that they're exposed to the outdoors, either.
Jessica Chandler
So then you move up to the next term, which is range free, range free, there's still no inspection required, there's still no standard range free would mean that they are exposed to outside, but there is no stipulation on how long or how are they getting out are all the birds actually making it outside? Or do they just have access to outside.
Jessica Chandler
So that's, that's where it's it's a just a verbiage that they were placing on, you know, just the label to trick the consumer pasture raise would be the next step up, you know, they're allowed to be outside, they have typically, you know, they're saying that they can be outside for two hours to six hours in the day. But once again, there's no inspections required.
Jessica Chandler
So and all those terms can be on a box without what you are really looking for, which is the USDA organic, organic label. So So talk a little bit about those three terms in combination with either USDA organic label, or it might say Certified Humane. Certified Humane is actually something is regulated, so it is required for them to have two square foot per bird outdoor space, and at least six hours a day. So, so Certified Humane can be on a box with pasture raised, and you're doing better, right.
Jessica Chandler
And that's the thing is we want to do better. But if we have that USDA Organic symbol on there, that's ultimately the only thing that I would say, okay, if I'm going to spend $5, on organic, you know, eggs, that it's going to have the seal on it, I'm not going to do anything in between, let's say a $4, doesn't have eggs, it doesn't have the seal on it. And it says pasture raised or even Certified Humane Certified Humane is doing better, it's next in the tear, but you're ultimately looking for that organic seal, because inspections are required by the USDA.
Jessica Chandler
And they actually, so there's two things here, there's like unpacking this, the word organic is patent. And it is patent to a 95% organic process. Now you can have a box that says organic, and there's no label. So then it's really confusing. You're like wait a minute, I thought I was buying 100% Organic eggs because it says the word organic well, it doesn't know the symbol. So if the symbol is on there, it's certified by the USDA at 100%.
Jessica Chandler
That means the process for up to two years. So let's talk about we were looking at houses and example looking at a house and we were going to have organic farming on that land and they treat the grass to sell the house man so now I have to wait two years for my grass for my open free range organic chickens, even for the meat of the bird because the bird is consuming the you know so so that's what the USDA does is they make sure that that you know process is 100% so if you're buying something that says as organic, you're doing better once again, but it's still only 95%.
Jessica Chandler
So, so there's lots of levels. And then you have certain things like that we'll say, hormone and antibiotic free. You know, I've got a whole nother category of just gimmick labeling that we can talk about if you want me to go.
Steve Washuta: Before we go into that I have I have some questions here. I want to I want to stay on top of this chicken raising questions because I think this is a good thing to go down. I would imagine there's even another level above that what you do right so what is the difference between you I don't know if the proper term is raised chickens, but you raised chickens and and get your own eggs? Is there a difference between what you do?
And let's say the highest level stamps and grades on eggs? If I go to the store, and I get those pasteurized eggs that are USDA labeled? Are your eggs better? You meaning like the person who's doing them in their home? If so, why? And the reason why I asked this is because I would imagine chickens never need to go inside. Couldn't they be outside all day long? Should they be getting like worms and bugs off the ground?
Jessica Chandler
Well, and there's lots of debate there too, because then you have there's a whole nother farming industry that's trying to appeal to the vegetarian and say that the chickens have vegetarian diet never eat things like worms and bugs. So yes, you know, you want a chicken to be exactly a chicken. Right. So a the first question you asked me was, you know, do well that I heard anyway, it was you know, do they need to go in the in the in the barn?
Jessica Chandler
Yes. Chickens naturally have in kind of in their time clock where they go in for almost like shelter, right? They roost. So you know, it's funny, because some of ours will roost in the barn and some of them will go find a place and roost in a, you know, but it's also survival of the fittest. It is a far we do have. We're in North Georgia, we've got Bob Cats, we've got foxes and things. We've got hawks if I mean, it's always in the nature channel.
Jessica Chandler
So lately, we've been dealing with a bobcat that's been picking off our flocks. So we let them roost at a certain time that you know, is least likely for them to get picked off. But then they're here come the Hawks, so we have roosters for that reason, because the roosters will protect them. And you'll see. So we have an open fenced area, then we have a fenced area that has a fencing cover over the top, and then they have a barn and they know how to get to all of it, you know, so during the day, they you know, when the sun comes up, that's how that works, right?
Jessica Chandler
The rooster crows, they all know they'll go out. And we have also have ducks, the Ducks are part of that flock and they do the same thing that they go all the way out to the open pen. And they'll go out there but you will see and hear if I hear a hawk in our area, that rooster you'll hear him crow throughout the day. And when he's crying throughout the day is not growing like in the morning, he's growing for them to come take shelter, and that's the you'll see them all run back up into the cage pooper.
Jessica Chandler
They know they're safe or if they're out, you know, they'll run under a tree or under my front porch, which I avidly have to kick them out of because they'll scratch out your garden beds and things but they they do definitely, you know, forage on bugs and they, you know, our ducks will find pockets of snails and stuff and all that, you know, they have calcium that happens in those bugs. That's their protein and then they eat fresh grass, and they will even pick leafs off of fallen trees and things like that.
Jessica Chandler
So yeah, it's they have good nutrients what we do here, you know, I won't treat my grass I don't you know, and our neighbors, you know, we don't let them go too far. So they stay pretty close. But yeah, that we don't treat our grass and we make sure that they you know, get fortified with calcium if we you know, have had a shortage and any kind of, I don't know, nutrient in their diet, you know, but that's those are mineral you know,
Steve Washuta: Do you know if any of those terms mean that those eggs, excuse me those chickens are potentially eating bugs and being outdoors meaning like, we just talked about how they you'll see like vegetarian raised? am I assuming that if it doesn't say vegetarian raised, let's just say it says pasteurized USDA no vegetarian,
should I assume that those chickens are actually potentially eating bugs and eating other things off the ground and they're healthier because what I do see just in a coloration is I'll see darker egg yolks and non vegetarian chickens, which to me probably means something.
Jessica Chandler
So that's a that's a if we're gonna get technical methane is you know that that part of that protein that the bugs are giving it right and the calcium and other the other micronutrients and minerals that they're getting from that. And when you see the vegetarian, you know diet fed to a chicken they're they're removing that and They're missing that.
Jessica Chandler
And there's actually study that, you know, when you remove that type of protein out of their diet, you know, they start to actually turn on each other. So they're trying to fortify you know, the vegetarian, you know, fed chickens with that actual protein so that they, you know, but then there's some supplementation and then it's it's synthetic, and it's not even the natural process.
Jessica Chandler
So then there we go. You know, it's to argue, interesting to say, we have a vegetarian diet, but we're eating eggs and from an animal that is meant to eat those things. So yeah, it's it's, there's a lot of debate. Yeah,
Steve Washuta: I've had friends tell me who have chickens. I don't know much about them. Obviously, that's why we're having this talk. But if they were to drop a mouse inside that chicken coop, that mouse is dead in a minute, and those chickens are those chickens are ripping that apart. So which would lead me to believe that there is no there is no vegetarian chicken naturally?
Jessica Chandler
Yeah. And I mean, they are, you know, they, they, they know, they're smart. You know, I mean, there's, there are certain things that they're not smart about, but you know, they they have instinct, that, that that's exactly what they do. You know, we've had snakes on our property where, you know, the rooster has, has attacked or, you know, in the foxes, you know, trying to grab our duck, you know, the roosters come out of nowhere. And, you know, so they, they definitely, they, they're meant to eat that anyway.
Steve Washuta: Well, that's, that's good to know. Now, you also mentioned duck, so I'm a little curious about that. I've had duck eggs before, it's hard for me to describe maybe the difference but I'll ask you two questions here. You can answer either one first. Number one, are duck eggs hard to produce a more expensive? Is that why we don't see them? And two, how would you describe them as far as like a a taste or size or coloration difference?
Jessica Chandler
Now my husband's better at talking about this, because he had a huge duck farm, you know, poultry that that? He'll tell you, you know, man, the Ducks are in season right now. And so for me, I have to basically Easter egg hunt for their eggs, these ducks don't lay you know, they will lay about three or three or four eggs in a week, all year long. Right now.
Jessica Chandler
But you know, in springtime, they will dump all their eggs at once you know, whatever they can give you because they'll have a nest that's all you'll see. Like a mama, you know, with all her ducklings during this time of year. You know, so right now we have two female ducks, ducks are messy. We only have a few just because the kids you know, and they and we enjoy them. They're fun.
Jessica Chandler
We have one she's the oldest bird in our entire flock and we call her downy, she's the survival of the fittest she's been attacked the most and survived like, you know, and so she just kind of rules the roost but they have more protein for sure. They are richer in flavor, they actually have a lot more micronutrients minerals.
Jessica Chandler
And I would say just from my experience, watching them and owning them and knowing them, they you know, they eat way more of the bugs and you know, they're definitely you see them carry around a lot more to break up all those proteins. So you know, think that way they're eating at larger amounts.
Jessica Chandler
But you know, all of my friends who bake swear by duck eggs, you know are better for baking they just have a better consistency the yolk is a lot bigger and the whites are a lot thicker. So if that just goes to say that they're higher in nutrients. Sure.
Steve Washuta: That makes sense. And that's, that's good to know. Speaking we just spoke about food you talked about the consistency of the the yolk and how the egg white is thicker, just when making foods, whether it's desserts or otherwise with eggs. I think some people are somewhat limited for me it's like okay, well
I can eat eggs in the morning I can make eggs a million different ways in the morning right you can scramble them you can throw things in them maybe egg salad in the afternoon but what else can we really make with eggs as far as like you talking to clients about how to design eggs to make it a little bit more interesting and creative is already sort of a meal that you yourself put together?
Jessica Chandler
Sure, I did just recently this weekend because we had an overabundance I have given my my neighbor some you know just trying to help everybody out and then we have several athletes in our house so I hard boil some and leave those in there for the kids and you know if you can get your your five year old started with some scrambled eggs you know or even two year old you know,
Jessica Chandler
does whatever you can start with then you just kind of change it okay well now that we tried to turn the legs will now let's let's go ahead and let's do an overeasy egg with some toast you know and then and then let's change it let's do a hard boiled egg and see if they like oh this is Easter egg and fun. This is one of the best times to introduce hard boiled eggs to you Kids.
Jessica Chandler
And now, you know, if you're like, Oh, my cat, my kid won't eat any of that. You try it and continue to try as well as training for children, right? But now my seven year old will walk in and be like, can I crack that egg, you know, and she wants to eat that hard boiled eggs. So those are snacks in our fridge almost at all all the time.
Jessica Chandler
And then this weekend, I made quiche. And I what we're doing is we're starting a new garden, of course, is that time and so I had herbs that came from last year's garden, and I'm just trying to, you know, let me reuse some of this stuff that's frozen, you know, so I pulled out spinach and chives, and let's see some other herbs, cilantro, and then I had some bacon bits and just threw that all together and the the eggs and blend them up, it was probably like six eggs for that. kishin put it in and baked it.
Jessica Chandler
And then I'm like, why don't I make some custard custard literally is milk, eggs and a little bit of sugar, you know, and making another high protein type of dessert. None of the kids liked it. But they were like that was like an egg pie mom. But, you know, next time, I might use a different type of milk to make it a little bit thicker so that the kids may start to like it. You know, I'm sure the first time I had custard it was, you know, loaded with all kinds of sugar and fatty milk.
Jessica Chandler
But now that I'm older and I'm like, Okay, well, you know, we can make this healthy version of it. And let's make the milk go go down to a little bit less fat. And you know, so anyways, I made that I may try that a little differently next time. Yeah, but you'll see like even Starbucks, a healthy recommendation I have for Starbucks menu is their spinach, feta wrap, and that's got eggs in it. And it's it's one of the best ones that I would say, Okay, if you have to eat out, this is a good recommendation here. Or you'll see Dunkin Donuts offers an egg wrap,
Steve Washuta: you know, I think they'll and then I'm sorry to interrupt. I think both of them now also offer just like basically like a little egg in a quiche bag bites, right? Which are great. And you can make them on your own by just getting a muffin pan a muffin tin right and do the same recipe you just said for the quiche and pour the man
Jessica Chandler
you can take. Yeah, and you can take the crust out of there if he didn't want to do the cross and you're doing more of a Keto, you know, or you know, but the I don't mind the carbs, especially early in the morning, especially for you know, if I'm going to do a spin class later in the day or training, you know, I'm definitely going to have some carbs in there too. So all those things work together.
Steve Washuta: Yeah, I like also I did real quick before we go on, I like how you said to sort of change it for the children, I have a daughter who's 22 months, not only do you have to keep reintroducing things, because sometimes they won't like it one day, and the next day, they'll like it the same exact way. But it's also good to just tinker with them a little bit, right? What can I do with this? Is it a consistency thing? Is it a flavor thing just to get them to like it and you have to keep tinkering
Jessica Chandler
and 100% We have a blended family. I love that we are literally to the Brady Bunch from a wonderful COVID marriage, it was great. We met in three months, we were married with six kids. So he has three and I have three and of course we come from different, you know, parenting styles and backgrounds and eating and food is a big component of that. And, and so, you know, I have children of all ages my mind, definitely I have an oldest and a youngest or, you know, that are in his or all stairsteps in between.
Jessica Chandler
So, you know my youngest, I'm definitely doing the training with her. And you know, it's sometimes it's like, I don't want to I don't want to make her eat it because it's a battle. But my oldest eats just about anything. I mean, like and so with, with his kids that came into the mix, you know, it's taken maybe a year of like, oh, I don't know about that that's different, you know, I cook all things Thai,
Jessica Chandler
I cook all things, you know, lots of vegetables, I barely ever touch a box that my husband said, I think I've seen you in two years, you know, buy a box food if that and it was by request, like somebody, but it's just because we you know, I always buy ingredients that I'm going to cook, you know, and if I'm not going to cook, I'm going to do that and prepare for the week. You know, and have something that's available that we've made.
Jessica Chandler
You know, and if we go out because we're normal people and have sports and athletics and we do go out, you know, we have different selections. So anywho the, the kids have all kind of within a year even the older ones you know, they've varied out with their selections and will try you know different things in live love the but it is training, it's as part of parenting if you want your kids to be healthy. You have to also, you know, expose them to that and you have to do it over and over again.
Steve Washuta: Just like you. I saw a funny video of a parent saying like, Oh, yeah, it's important to let your kids eat healthy. It's also important to let your kids eat what you eat and then the mom like finally notice she's like, oh, when the kid eats what I eat, he's not eating healthy because I'm not eating healthy, right?
So like when you kid you really notice you're like, did I like what was the love? like vegetables and fresh food that I had today, because of my kids eating the food that I'm eating, now I really have to pay attention to what it is that I'm eating right. So we do more smoothies in the morning with our smoothies, and we make sure there's, there's always like some sort of green that she's eating. And it really is, it's, it's actually helped us be cleaner in our in our eating.
Jessica Chandler
Yes. Well, I had well, and another thing is, too is a lot of people don't think, you know, if they're on a health journey, you know, and your kid hasn't, let's say my five year old five is a good age to think about that, or a six year old. You know, basically, I make a protein shake in the morning, and I'm just going about my day and I'm sending vitamins out.
Jessica Chandler
And then, you know, I asked her what she wants for breakfast, and she's like, Okay, I want toast and egg or whatever. And then, you know, why wouldn't I say, Hey, do you want to try this protein? Shake it up? I mean, it doesn't take about two seconds to grab a little glass in there and say, Here, why don't you try this? And now she'll say, Hey, can I have some of that chocolate peanut butter drink?
Jessica Chandler
And I'm like, Oh, the protein shake? Yeah, you know, so and then and then it's it goes to the to speak that my 16 year old to be soon. She, you know, makes a protein shake before she gets ready for school. And you know, pretty much they all do. You know, the blender is an avid thing that goes on in our house in the morning. But, you know, it's it's the training I did early on. So finally now I'm feeling it.
Steve Washuta: So it will happen for you As you know the ingredient mixtures and how they're presented, which we sort of already hit on just getting creative. So my daughter really likes Greek yogurt. She likes fruit as well. But some you know, it's give or take, well, one day she'll blueberries will be a favorite thing. The next day, she'll throw them across the room, right?
So you just you never know. But if I blend that Greek yogurt with any fruit, she thinks it's a treat. She's like, Oh my god, I can't believe dad's giving this to me, because Mom, mom drinks this, and it's in a cup, and it looks like a different color. Maybe the texture slightly different, right. But really, it's the same thing I just gave her the Greek yogurt mixed with the blueberries. So I think, you know, just getting creative is really important in that process.
Jessica Chandler
Yeah, and definitely, you know, going back to the eggs, you know, it's eggs are a good way to fortify into, you know, anything that you're cooking. And then and then it goes to say to that, you know, they keep you fuller longer, you know, there's other benefits, when you are on a health journey that are helping, you know, regulate your glucose, for example, you know, keeping your blood sugar from dropping so low, because you just ate some simple, simple carbs, like I love the toast, but we need to have some proteins with it, you know, it's has to be balanced, right?
Jessica Chandler
Balance is my favorite word in this industry. So I did want to mention some of the gimmick words, just so people can know, because these are gimmick words that can be on anything. Lot of times, you know, you'll see you can see this on bread, you can see it on Apples, you can see it anywhere. I mean, you but eggs are really a big one that they'll say, okay, these are hormone and antibiotic free.
Jessica Chandler
They're all natural and farm fresh. You know, what are those terms mean farm fresh, you know, there's there's no stipulation, but behind what farm fresh really does mean and then all natural, you know, an egg is going to be all natural, it's a process of an egg. So, so those are just words, you know, that is used for tactic, the hormone and antibiotic free is a big one, because it comes from the livestock industry doesn't have anything to do with eggs, because you cannot they don't give hormone injections to chickens, you know, they don't fortify anything in there, the hormone and antibiotic can be used interchangeably.
Jessica Chandler
So in livestock, you know, if you see hormone free, it could be given antibiotics. If you see antibiotic free, it can be given a hormone as an antibiotic. So they're interchangeable. And they can put one on there and be using the other. So when all else is said, you know, when I tell people look for, you know, if you're going to pay the money for something that's healthier, and you're on that healthy journey, you know, look for organic, the word organic is you're doing better, right?
Jessica Chandler
And then if you can get that symbol, you know, get the symbol if you're going to spend the money, you might as well do it and then there goes the debate of you know, what's more costly your health, because later on, you know, eventually healthcare, you're going to spend more money on health care and being sick if you're not making healthier choices in your diet and your lifestyle.
Steve Washuta: you know, well said I echo those thoughts and I mean, eventually let's just talk about if someone has a budget of some sort, are you willing to cut from that budget somewhere else to get those eggs that you know are not only tastes better, because they do but they're better for you. Some people are not and that's okay.
That's a decision that you consciously made. When other people are maybe somebody has a line of diminishing like Oh, like a hard line, you might like you just mentioned the $5 line, maybe they go, I'm gonna get the best eggs I can possibly get for 499 or less, I'm not paying over $5 and that's fine as well.
I mean, we all have different boundaries based upon our finances and, and I'm somebody who I actually don't have a rational reason sometimes I buy $9 eggs, sometimes I buy $3 eggs, just it just depends, right market research, market research, I want to try that. I want to try the different eggs.
Maybe it's a new brand, maybe, subconsciously probably is what's happening sometimes too is I see a word on there that attracts me to that. So I've always been like I told you attracted to seeing not seeing the word vegetarian on there. Because I have a strong partiality to say I want my chickens to eat everything because I like the darker yolks.
But But knowing that, like you said, if I do want the optimal eggs, typically if I'm not worried about finances, you can correct me if I'm wrong. I want the USDA symbol and I want to be pasteurized, I'm not really going to get anything higher level than those two connected.
Jessica Chandler
Well, pasture rates. Yeah, for sure. Yeah, well and the other so that that then goes to the next question that I always get, well, where do you shop? Well, where do you find this? And how do I do this, you know, and so I shop all over. But I'm also a mom of six and busy and we have multiple things going on so realistically and doable.
Jessica Chandler
There are Saturday farmers markets somewhere near you, I guarantee you there are farmers markets that are somewhere near you that are going to have local eggs. And if you don't know where that is you can easily walk into Tractor Supply or you can walk into you know, a far a local farm store like you're gonna have Ace Hardware any of those places and you can I guarantee you you can ask the cashier or somebody in that store and they're going to know where you can find local eggs. all over social media you can ask you know where local eggs and people you know your community pages or anything like that they'll they'll know.
Jessica Chandler
But I do like to shop at Aldi I'm a big all the person just because a they do have their own organic brands. Sometimes they have Fairtrade I like Trader Joe's all the yellow things, they're kind of all connected. But just because it's organic doesn't mean it has a ton of junk in it so that I will throw that out there but all day tends to be a little less expensive and does offer organic with the label and produce.
Jessica Chandler
So I heard this I don't know I hear this a lot where they'll say I buy produce from all day and it goes bad on my counter and like two days and I say good thing. Okay. And why would it do that? Because it's not preserved for life right? I mean, yeah, that is that is what we want. So same thing with like deli bread. I know somebody's like, just to relate to the average consumer if you've gone to the deli and you've gotten deli bread, if you look at the ingredients there's probably four or five ingredients on there flour, water, yeast, you know, maybe sugar salt.
Jessica Chandler
So what happens after you know two days that delay bread goes bad on your counter right? So it goes to say that they're not preserved and that's okay that the less amount of ingredients the less amount of chemicals the better so you know it's these are all things food, eggs and in general but Walmart has done a better job at getting some some other selections in there for organics, and they're on the lower end as far as pricing goes.
Jessica Chandler
If you're going to their bigger box stores you know Costco is my favorite just because they offer more selection when it comes to Fairtrade range or range of Fairtrade and organic you know so those are those are typically where I like to to shop but you know, local farmers markets are people like me that sends my teenager with you know 12 dozen eggs to set up a little stand and you know he's he's worked hard chickens are not cheap.
Jessica Chandler
I will say they if you're going to start it and you want to do it and you want to be economically lower you I would say just get the four that they say you can't go home with with less than four chicks from wherever you're getting them because they are a flock and they need they need friends.
Jessica Chandler
So you know start there and you know they need just a small house so you can move around where they can go in at night and you know that's probably on the low end of about two 300 bucks but then of course their bags of feed you know so so there's a lot of jokes in the chicken world that you know you think those eggs are are cheap or free eggs but they're actually the most expensive eggs you've ever you know bought now I'm I'm four years into this now.
Jessica Chandler
Now my eggs have definitely paid for themselves but within you know first two years you're not Can I I think the first year I spent $1,000 on my Chicken Barn and the, you know, the, the chicken run and you know, the feed, and we did the math, and eventually it, you know, paid for itself by year two?
Steve Washuta: Well, yeah, it paid for itself insofar as the process of the eggs, but there's a, there's not a price that you can put on understanding the process how to do it right. So you're able to not only experience doing something fun and special with your, your family and friends and whoever else, but in addition to that, you can then pass on that knowledge to other people because you have now acquired a new skill and this hence the reason part of everything on here is explaining this skill to us. Which is, which is really kind of cool, because most people do not know how to do that.
Jessica Chandler
Yeah, well, if you have to know how to do it, you know, you learn and you acquire it. I had never raised chickens before we grew up on a horse farm. And we might have had one chicken that randomly was given to us. But you know, it was, I don't ever remember us having a significant amount of chickens.
Jessica Chandler
My husband, you know, I had the chickens before I met my husband. So I definitely had two years of calling my dad and being like, how do I do this, and research and learning. But, you know, one of the reasons why I bought the property was to have chickens and the ability for my kids to help.
Jessica Chandler
Because I remember growing up on a farm for me, you know, it was one of the best things developmentally you know, to have, you know, my, my son, we call him the chicken tender, because he takes care of them. And, you know, they are almost like his therapy animals.
Jessica Chandler
He's 13. And, you know, if he's had a rough day, he'll go out and you see him out there, you know, petting a chicken, or I've seen him ride a scooter with a chicken, you know, like, but they're excited about hatching them, you know, and they get to see that process, they get to see the process of burying their, their chicken that they may have named, you know, they get to see the process of farm life, you know, of us having to, you know, Butcher of Rooster because we hatched out six, and we can't walk through the yard without being attacked.
Jessica Chandler
You know, we've, we've, you know, and they're doing their job, the roosters are doing their job, but sometimes you no one's gonna go in my freezer. And, you know, we're going to eat that where we made my mom chicken noodle soup with the rooster that we hatched out a year ago, you know, and took it to her when she was sick. So, you know, they get to see that whole process.
Jessica Chandler
They get to also, you know, learn about the incubation process and development and all that. So it's definitely a great teaching place. And like I said, you don't have to be on the large scale of $1,000, you know. Chicken project, you can absolutely be on a lower scale, you know, purchase for little chicks at $1.25 You know, a piece and you know, and have them in a tupperware bin until you can figure out what to do you know, with the next stage and go from there. So yeah, it's been great. I've loved it..
Steve Washuta: Well, that's great information. I want to go back to something you said to earlier about the you know. The food going back to your client said they were buying produce at Aldi was going bad. You know, we as as professionals, I'm sure you agree with this. I'm sure you do this, we have to explain to our clients why that's a good thing, not only from the health standpoint, but from a habit standpoint, right.
So if you typically the big issue is that people are buying things. And then they open up their drawer five days later, and they go bad and they throw them out. It's like, well, why it's because you should have eaten that already. Right? That should already have been there. We don't all need hard. Like steadfast plans where you have to write down every single thing that you're going to eat and stick to it.
But you should have an idea of what you're going to eat for the week. So for example, I have a board in my kitchen. And I'll write down all the dinners we're going to have for that week. And I buy those dinners now, if I want Wednesday's dinner on Monday. And if I want Tuesday's dinner on Friday, that's fine.
I juxtapose those or I switch them around dependent upon maybe what my wife ate for lunch, or what's what's the time. That I have that individual night to cook, maybe Wednesday's meal is going to take me 45 minutes to cook.
I only have 25 minutes because of something that happened in my day so that I switched the meals around. But you shouldn't have an idea of what you're going to cook for the week. And I think you know, we need to explain that to our clients and say it's good that these things go bad quickly. Because that means that's going to force you to eat the healthier foods.
Jessica Chandler
Yeah, well, and that's part of what we do. right? As a nutritionist, when people are like I'm at a loss, I don't know what to do. So then I just don't do anything. And then I'm overwhelmed, and then I just go eat out or I just eat junk or whatever's left. So part of you know, being a nutritionist, you know. It is a taking in consideration what their individual need is, right?
Jessica Chandler
So if I have a hormone client that's struggling with thyroid issues. Or if I have somebody who has a food allergy to eggs. You're talking the other spectrum at the end of the spectrum on that, you know, I then help them think outside of that box. And when I come to find speaking to your point of having a plan, they're overwhelmed by the plan.
Jessica Chandler
You know, I find that a lot in this industry. They have seen a nutritionist, they've seen a dietitian, and they're discouraged, and they're lost. And they've been on this health journey before. And they've done nothing but yo, yo, we have to make it realistic and doable for your life, you know, and everybody is different.
Jessica Chandler
So if I have somebody who is an extreme amount, high level cooker, cooker, you know. I would provide a seven day plan for them and say. Okay, here's a seven day plan, there's recipes attached, there's a grocery list on the back, there are portion guides. In the end, you know, it's a 11 page, you know. Summary, basically, now that person can handle it, and they appreciate it.
Jessica Chandler
And they want those recipes, and they're going to follow that stuff. But my mom of six. Who is going to be at a softball field. Or baseball field on a Saturday and lacrosse on Tuesday, Thursday, Friday. And track field on Monday, Tuesday. I mean, like that is my schedule, right now. And when you're in it. They're going to look at that seven day plan and say "No way" you know. so a lot of times what I'll say is, okay, I'm gonna give you a plan.
Jessica Chandler
But I'm gonna make it really easy. I want you to pick three days, I want you pick three of those days. And I want you to just do those three days. And then I want you look at the rest of it. But you know, save it for another time, you know. Do the three days and then either cook double the amount, so you can put half of it in your freezer, you know.
Jessica Chandler
And then another fun tip that I like to do is tell people that you know, especially my age. So I'm almost 40 and our age. Our generation, we ate family style as kids. Right mom sat down most of us did and made meals and things at the table from what I experienced. Now our culture has just gotten to the point where every so fast. And so moving now we have to have plans, right? They have all these plans.
Jessica Chandler
So we're not eating out, that's we're we have to change with the culture change, right? So what I've told my clients is that do one thing that is fun, go out and buy, you know. The food preparation containers. I like the glass ones, the prereqs, you know, so rather than family style putting away, you know, here's a large Tupperware of let's just use green beans.
Jessica Chandler
Here's a large Tupperware container or Ziploc bag of chicken breasts we cooked or baked or casserole dish, right. And here's a large container of you know, whatever else we had, let's break it down. Instead of putting large containers away. Just make those little meal preps and you put away pop to in the freezer to in the fridge. And you you know. In a month's time you have your own freezer meals that you cooked and you don't have to eat the same leftovers over and over and over again.
Jessica Chandler
So yeah that's one of the biggest tips that I can tell people. That if you just make that one change. Change how you put your food away, just do that. And it's a big help, you know. And then and then minimize the amount of planning because people seem like I said. They get so overwhelmed that then they just don't do anything you know.
Jessica Chandler
So if seven days is too overwhelming. Which is typically what we do in the industry and say, Hey, here's a week's plan. People get overwhelmed, like 123 days. And that's it now, three days, rotation, rotation, rotation. We eat the same thing all the time. then we talk food allergies, and that's a whole nother thing. Yeah.
Steve Washuta: Well, it makes perfect sense, right? I always talked about on this podcast, adherence, right? That's the clinical term for sticking with something if you're going to adhere to a diet, right? That's the only way you're going to be successful. And how do you adhere to it? Well, it has to be reasonable and rational, like you said. Has to fit into your lifestyle, it can't be outside of that. In addition to that, there's always room to progress.
You want to start people light. So maybe you do start the three days. And then maybe you have a client comes back to you two weeks later and said this has been actually very easy for me you go okay. Let's add a fourth day in, you know, we're not now you're ready to take the next step up, or let's add this piece into the puzzle here. So we don't you know, we don't want to go zero to 60. with clients, not with all clients. Some people need that.
Some people need to be pulled back. I just had a conversation with with someone on my podcast yesterday. Who is that podcast probably be out right before this or right after this about you know, stress. And there's certain people who thrive in stress all they want to do like. They basically want their minds to be busy at all times. And they don't want to sit down with their thoughts and do these sorts of things. And those people you have to pull back sometimes, right?
You have to pull them back. I'm guilty. Yeah, you have to put on something and then nutrition. Well, some people are too regimented. And then when they miss something. They they're mad at themselves, right and they go into this downward spiral you have to say hey, it's okay. It's we have long term goals that supersede our short term goals. And you're going to screw up sometimes short term just Just be prepared next time and and forget it. You need to have amnesia.
Jessica Chandler
Yeah, yeah. And I use that very much. So as you know, I'll say well, this is a guide. This is not something you have to 100% Stick to it. And you also you know, also say You know. If this is going to be obsessive, it takes one click for me to remove all the information off of there. You don't have to know your macros you don't like I have made you a menu.
Jessica Chandler
That is what is required for your day. You don't have to know that, you know. And so you have to kind of give them the permission of like. It's okay to know that, you know that you don't have to stay. They use it as a guide and a learning tool. But yeah, I have had very, a very large portion of clients that have come that are just like. I can't use that tracking app. I can't, because I just. I just need you to tell me what to eat on a regular basis. Because I get way too obsessive with that, and then it becomes a problem. So yeah, absolutely.
Steve Washuta: Jessica, this has been fantastic information. Everything from our conversation to our chickens to the great nutrition information you gave on both habits and particular foods, I want to let my audience now know where they can find you.
If their general population maybe they want to work with you. Or maybe they're actually personal trainers where people in our health and fitness realm. And they and they have a question for you. Wherever is best to reach you.
Jessica Chandler
Absolutely. I have a Facebook page called Health for life, nutrition and training. And I'm also on Instagram with Jessica Chandler. I mean, you just find me Jessica Chandler. And then I also have a Facebook group that we have nutrition question and q&a. That is going to be starting at mentally here soon.
Jessica Chandler
But just questions like this will all have office hours where you know. Whoever wants to pop on can can talk and she questions for a nutritionist. I have been a personal trainer for a long time I came from the military. So I enjoy that. But you know, the nutrition side of it is definitely my passion. And a lot of trainers will use me as a nutrition source for their clients if it's beyond their scope. So yeah, that's where you can find me. And I do make meal plans and we do training programs there. So if you have any other questions you can reach out.
Steve Washuta: I'll go ahead and share my information through. I will put all those links in the description for the podcast. My guest today has been Jessica Chandler, thank you so much for joining the Trulyfit podcast. Thanks so much.
Steve Washuta: Thanks for joining us on the Trulyfit podcast. Please subscribe, rate, and review on your listening platform. Feel free to email us as we'd love to hear from you.
Thanks again!
CLICK FOR AUDIO OF PODCAST