What is WeShape? : Tyler Bramlett and Katie Bramlett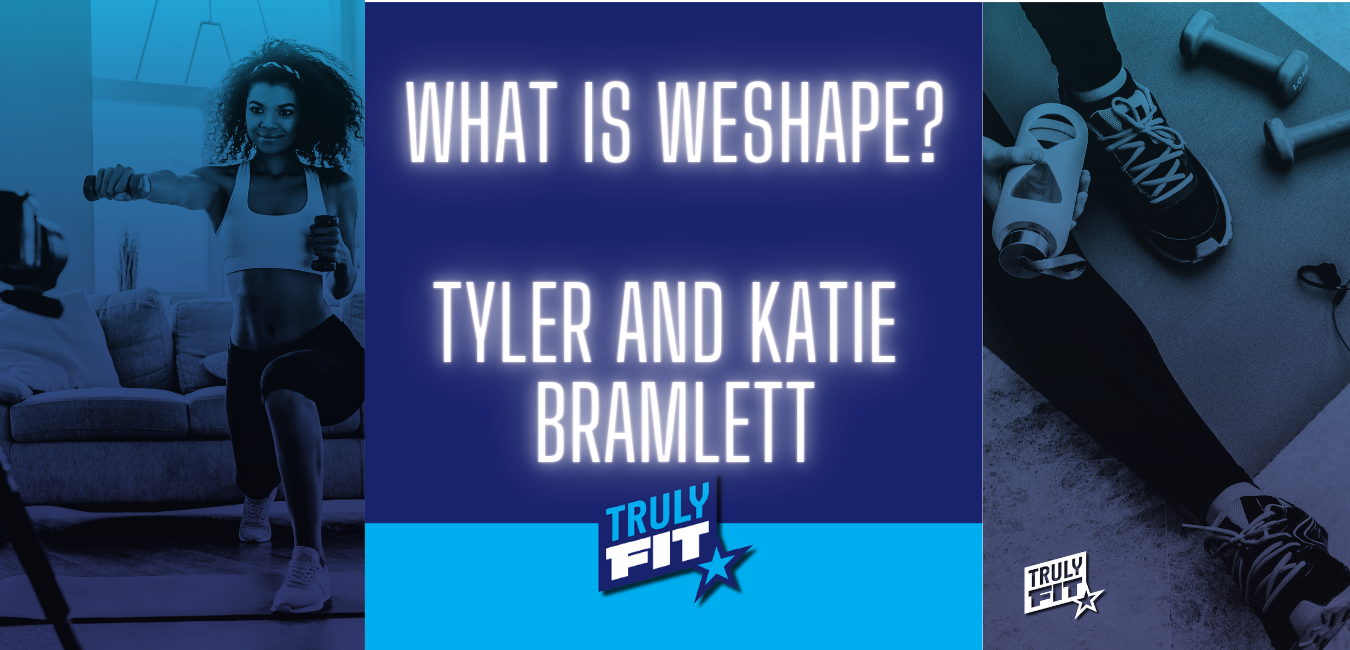 CLICK FOR AUDIO OF PODCAST
Guest: Tyler and Katie Bramlett
Release Date: 1/30/2023
Welcome to Trulyfit the online fitness marketplace connecting pros and clients through unique fitness business software.
Steve Washuta
Welcome to Trulyfit. Welcome to the Trulyfit podcast where we interview experts in fitness and health to expand our wisdom and wealth. I'm your host, Steve Washuta, co-founder of Trulyfit and author of the book Fitness Business 101.
Steve Washuta
On today's episode I interview, the founders of we shape that is Katie and Tyler Bramlett. Weshape empowers you to use their product as a tool for caring about your body rather than just a tool to change it. And is their mission to meet people wherever they are on their journeys towards better health and develop unique and personalized movement plans through customized workouts through movement scaling through a visual teaching system.
Steve Washuta
It was a fantastic conversation. Right now they are not lost as an app. They're purely on the desktop. And I actually think from my experience working in software, things were way better just on desktop, I try to avoid apps at this point, especially in the fitness and health world.
Steve Washuta
But I love their perspective on health and fitness, what you're going to hear very much mirrors mind and what we talked about in this podcast, and I'm sure I'll talk to them again down the road. They have their own podcast as well. With no further ado, here is Katie and Tyler Bramblett of Reshet.
Steve Washuta
Tyler and Katie, thank you so much for joining the Trulyfit podcast. Why don't you give my listeners and audience a little background on who you both are? And what you do in the health and fitness space day to day.
Tyler Bramlett
Thank you so much for having us. Yeah, thanks, Steve. Do you want to go share what we do? Yeah, sure, you know, we shape is a company that we founded about two years ago.
Tyler Bramlett
And the goal was to do two things, it was to change how people exercise and why people exercise the how being instead of giving people you know, a one size fits all approach, how do we create a product that can actually create a workout that is unique to each individual user based on their goals, their capabilities, and ultimately what their body can do and giving them the right things to help them improve that. And why don't you speak to the why.
Katie Bramlett
Yeah, we used to have a different fitness company that really focused on body transformation and diets and certain, you know, Max calorie burns, and really getting people to focus on the scale. And we had taken 1000s of customers through body transformation experiences and really discovered that it wasn't what they thought it was going to be in the end.
Katie Bramlett
And that really cultivating a different type of connection with self and focusing more on self worth, created further intrinsic motivation to care for their body rather than using that scale as something that externally motivated them. So we noticed people one weren't really emotionally or physically satisfied with their result.
Katie Bramlett
And we also noticed that they often just reverted back to old behaviors and patterns. And we hypothesize it was because they were using something outside of them, like the scale or like, you know, various fitness goals in order to try to create that intrinsic or motivation. And we just found it wasn't working. So we wanted to try something different.
Tyler Bramlett
Yeah, there it is. Most people are motivated by self judgment. And we're trying to get rid of that that negative self talk and we're trying to replace it with I want to show up for my workouts as an act of self care, not self judgment.
Steve Washuta
Yeah, there's certainly a push for vanity in the community. Now over overall health, right? people conflate things like strength, even and vanity. How you look with with the numbers, I coined a term saying health is not in your abs, it's in your labs, right? There's more going on.
Steve Washuta
But there's also a psychological component that people miss, because they're always chasing a particular look, they're not really taking time to step back and saying, How do I feel? Is this really what I want to do? And then also from like, a long term perspective, you guys understand, because you've done this with clients, but inevitably, you know, looks fade.
Steve Washuta
And you know, injury prevention, waking up with no aches and pains, waking up, knowing you're healthy is more important than necessarily how you look. So did you look at first to like, see if there were any apps out there that were doing this and you saw a hole in the market was that also part of the reason why?
Tyler Bramlett
I wish I could say that we did as much market research around that it was really more like both of us, I think came to a place of feeling like this isn't fulfilling, this doesn't feel like we're creating the best product and serving our people as as good as we can.
Tyler Bramlett
So ultimately, when we sat down and talked about it, Katie really spearheaded a lot more of the brand mission as it relates to hey, we need to bring awareness to this toxic weight loss culture that we're stuck in where people are just told to feel lousy about themselves, until they reach a certain goal weight or whatever.
Tyler Bramlett
Then it's changing every decade, the body shape and everything like that. And I came more at it from the fitness perspective, having been a trainer for a long time, and said, How can we build a product that I can give somebody in their iPhone, that gives them an experience that's almost like having a personal trainer, but for a fraction of the cost?
Tyler Bramlett
Because to me, I just really I just don't like the one size fits all approaches. It doesn't make any sense to me because everybody's got different degrees of flexibility and strength and coordination. And we wanted to figure out how to help people through their journey improve all of those but contextualized for them.
Steve Washuta
Yeah, we've talked about that a lot on this podcast, how there's too many people in the health and fitness industry where they are a hammer and everything's a nail instead of just having a large toolbox of skills to use and individualizing program As they say, No, you have to be keto you have to be carnivore, you have to lift heavy, you have to only run.
Steve Washuta
And ultimately, we all need different things not only from a physiological perspective, but from a psychological perspective, right? Because if Katie doesn't like lifting heavy, then she's not going to adhere to a program where all I give her is lifting heavy, ultimately, she has to adhere to the program to become successful. So walk me through your user experience. I go on an app store today, Steve downloads the app, what's the next steps?
Tyler Bramlett
Yep. So we launched the product as a web based application. So you can't go to the app store yet. But in a couple of months, we're gonna have the app live on iOS and Android, that was a decision because we knew there was going to require a lot of iteration from our technical team to get the product experience, right.
Tyler Bramlett
And if you deploy an app, and somebody downloads it on day one, and they don't refresh it, they're gonna have that kind of outdated version in terms of like the experience they're having. So we've been working real hard for the last, you know, what is it 20 months now on just kind of optimizing the user experience and the product experience so we can get the best results for people at the end of the day.
Tyler Bramlett
But the experience is quite simple, right? You know, usually somebody will find us on social media, we do a lot of talking about both toxic weight loss culture, as well as like, hey, if your arm hurts when you put your you know, hand over your head, here's what might be happening and try this. And then people go, Wow, that feels really good. And we say, hey, come try out one of our personalized at home workouts, and then they come to the website, we take them through a quiz.
Tyler Bramlett
The reason why we use the quiz in the front end is because we use 26 data points from that quiz to actually customize their first assessment workout, right? These are, you know, for example, how far can you bend to touch your toes? What squat Do you think you can do without paying, you know, 10 times like different variations of different movements, and they can kind of self select throughout that process.
Tyler Bramlett
Then when they actually join into the product, we start with an assessment workout, and the assessment workout uses the self identify the data that they that they did from the quiz, to give them exposure to these particular movements. And then they can say, hey, this feels too hard, or this feels too easy.
Tyler Bramlett
We'll scale the difficulty of those movements up or down for them in real time. And then we kind of build on it right. So as an example, I allow people to self identify, as you know, being able to do a certain type of squat, then when they actually do the squat, they'll be able to adjust it up and down. And then we use the level from that squat to inform, for example, how we might do like the first attempt at a lunch.
Tyler Bramlett
Then so then we use the lunge to do first attempt at a single leg movement, right? So it's just a process of allowing the user to experience the product, self identify and using that data to inform the decisions that we're making down the line in their future workouts as well.
Steve Washuta
Are they watching the video of someone doing this? Is it a picture? Is it a live video? How exactly does that work?
Katie Bramlett
Yeah, it's a follow along workout. So I like to say that behind the scenes, it's very complicated. We have like a movement matrix that has 1000s of video files with tons of variations of micro movement progressions. From the user experience, it's very easy, you take the quiz, and you push play, and then we, we help you, you know, figure out what you need.
Katie Bramlett
So yeah, it's follow along workouts that basically can just be adjusted in real time. So if you push play, and you're like, gosh, I woke up and my shoulders kind of bothering me, that movement that I'm doing today feels a little bit too hard, you can just interact with the screen and say, scale me down.
Katie Bramlett
And then the next round, it'll be the same movement pattern, but just a slightly easier variation of it. So you can kind of go up and down in the workout as needed, based on each movement pattern. And I also think it's really important to talk about this idea that in the fitness space, so many of us focus on exercise versus movement.
Katie Bramlett
One of the things that when we were talking earlier about, you know, looks fade, vanity fades. So even if you're down that path, like eventually, you're going to, you're going to have a different value system that goes actually I just want to be feeling good in my body, I don't want to wake up in pain. And we had really discovered that there's really no industry standard for quality, in terms of exercise programs in the market.
Katie Bramlett
For instance, we could all go to personal trainers, your personal trainer can have a two week certification, mine can be a personal trainer that has extensive education for years, you could go to someone who has a physical therapy degree and give me really focusing on your biomechanics and movement patterns. There's no industry standard, all we do in the health and fitness space is say exercise.
Katie Bramlett
That's good. And what we're saying is we need to redefine what quote unquote good means. We need to focus on how the body is intended to move. Every single person on the planet has movement dysfunctions, that will eventually lead to a pain or to pain or to an injury. And so what we're doing is identifying those dysfunctional movement patterns and giving you an exercise program that helps you move better in your body so that you can have sustainable fitness, sitting on an exercise bike for 30 years.
Katie Bramlett
If you like that, I'm not going to discourage that necessarily, but it likely will not serve your love serve your long term movement pattern. So we're not only coming I mean, again, behind the scenes from the programming and the technology, it's very complicated. The user experience is very easy push play, but it's important to talk about these things because we have complete misconceptions around what of exercise is it's not max calorie burn. It's not prs. It's movement quality. And that's our foundation of our product.
Tyler Bramlett
That's really important too. I just want to say this, I've been thinking about this a lot as a trainer, like how do you describe this to somebody because when you describe it to somebody, they just don't understand what the difference between a squat and a squat is one being like biomechanically aligned, you know, with good form, activating proper musculature, you know, all the different elements that make it a good quality squat that you can do.
Tyler Bramlett
When you're 100 years old, versus somebody just doing a bunch of squats, where their knees are caving in, and their backs rounding, and they don't have good core pressure, and all this other stuff. And so to me, exercise right now, when people hear it, it's energy systems, they're not thinking, they're not thinking in terms of movement quality, they're thinking, how much can I? How many calories? Can I burn? How much sweat can I get? How high? Can I get my heart rate? Or how much can I pump my muscles, right?
Tyler Bramlett
We're trying to get people to stop thinking like that. We're trying to get people to say it's not about energy systems, it's about the movement system. It's about when I lift my arm over my head, can I do it pain through free through a full range of motion? Right? Am I using the proper musculature to be able to do that. And it's been difficult to figure out how to educate somebody who doesn't have an interest in that on how to do that.
Tyler Bramlett
But that's been the focus of the product as well is as you're following along, too. It's not just a movement that you're emulating. It's educational snippets that pop up throughout, that are pointedly trying to address a specific issue that most people have. And I
Katie Bramlett
like to say, you might not care about it today, but everyone will have to care about it at some point in their lives through so you can deal with it later. And you can work through that pain, or we can address movement dysfunction now, and pair movement dysfunction with exercise. And you can just do it all at once in our product.
Steve Washuta
Yeah, I like to always really fitness and finance. And that's how I try to explain it to my clients who otherwise don't know and say, Hey, listen, in long term, we have to be worried about saving money, we have to be worried about having a 401 K in a savings account, all all of those things that's sort of like our body runs the same way, right. So like maybe you're a little bit riskier in your stock profiles now.
Steve Washuta
But as you grow older, you have to be less risky, we have to worry about making sure we have money for later on in life. That's the same thing with our body, we have to make sure that the movement patterns are there later on in life, ball and socket, hips and shoulders got to move them around in all directions, we have to make sure we're not just moving in sagittal.
Steve Washuta
And frontal, we gotta move in transverse and we teach our clients how to do everything. And it's I think it's, it's trending a little bit more now. But unfortunately, you have, again, the big the vanity culture is against that, because a lot of the vanity culture is doing the opposite of that. Unfortunately, it's just moving in a few planes of motion.
Steve Washuta
It's about how you look and not how you feel. But I love also how you guys talked about how you can modify up or down. And I don't think any program that I've come across has that like where you can do that now maybe retro actively like after the workout, you could reach out to somebody and we'll do that but mid workout. I think that's fantastic.
Steve Washuta
Because it could be too late, right? If the clients hurt. And they go, Oh, hey, like that workout that I was doing. Like now. Now I tore my rotator cuff. It's like, okay, well, now we're, you know, now we got to rest for six weeks. So the fact that they can feel a slight discomfort, and then right away pivot and transition, I think was a genius idea. But you guys,
Tyler Bramlett
thank you, Steve, you know, the way we thought about this is really simple. I used to work with clients, I used to do all of the sales and the initial workouts for people who are coming into our group training programs in the past. And it's it's modeled after that it's asked a lot of questions. What do you what's your goal? What can you currently do? Look at them move, right? And then we say, Okay, try this, how's that feel?
Tyler Bramlett
And then we adjust it, you know, in real time based on how what their feedback is right? And then during the workout, if you're a trainer, and somebody's like, this is too hard. You know, the bad trainers go suck it up. Right. And the good trainers go, okay, pause what feels hard, right? Where's it feeling uncomfortable? What do you feel working right now?
Tyler Bramlett
Are we working right stuff, right? And so, you know, throughout the workouts, that was the key was like, how do we give the user the same experience as working with somebody or at least as close as we can get. And so when it came to the product, that's why this is a was a difficult product to build. And it was so technically heavy.
Tyler Bramlett
Like we have, like Katie said with 9000 video files, and the way it works is like whatever movements coming up next in your workout, you know, we're buffering multiple options, so that the rest interval stays the same. But that person can be like, Oh, this was too hard for me. And 10 seconds later, we can play a simpler version of it or a more difficult version of it, right? So that they get that scalability in real time. And
Katie Bramlett
really, the future of our product is to have we actually already have a plan for how we're going to do this. But it's to have the camera of your device, give you the feedback, and not even allow you to go to the next level until you show that your body's movement pattern is aligned with work to take it to that next level.
Katie Bramlett
So right now it's based on user feedback, but in the future, it will actually be based on the technology that that's looking at your body to make sure that you're doing the proper movement pattern.
Steve Washuta
Yeah, that'll be fantastic. I think explain to the general public too. I had a funny story. My sister contacted me, and she's in the same space we are but not in fitness. She's in the nutrition realm. She's like a licensed nutritionist. And she said I went on a hike on vacation me my husband and two of my friends and asked After the hike, my husband's calves hurt, but my glutes hurt, my friend's hip hurt, and my other friends quads hurt.
Steve Washuta
She's like, why is that I had to explain to him like, well, all of our bodies work differently. Some of you had stronger muscles in one area, some of you recruit posterior better than you do, and the anterior front, and there's so many different reasons and mechanisms. And that's why workouts need to be designed individually, right? This this was the perfect analogy.
Steve Washuta
Yeah, at four people can go on a hike, and they can all come back with different muscles being sore. And that's just not talked about enough how, you know, people say, Oh, you're you're doing a squat, you're working your glutes. It's like, well, not for some people, it depends on what they're recruiting and where their feet angle is, and our ankle mobility and all these things.
Steve Washuta
So it's great that you guys are sort of tackling this, again, from a very thorough perspective, and not just saying, we're gonna throw generalize workouts at everybody. But I want to go back to maybe a little bit more technical talk, because, you know, I also have a few software companies and apps. And I've also noticed that sometimes the desktop is just a way better version to show things than the app.
Steve Washuta
Like if somebody goes to skip, which right now, which is a registry that I own, they can use the app, but it's not going to be as good. Like there's just there's too much content, there's too much like interface where they can interact, where it's always better on the desktop. So is there going to be a point where you guys just try to really push people towards the desktop? Because it's better? Or are you still thinking like the app is is the future because people just love apps?
Katie Bramlett
Well, it's, that's an interesting thing to be thinking about. So Tyler, I do not have a technical background at all. My background is in more developmental psychology and operations, and Tyler's by organized zone. So very quickly, when we discovered that we wanted to build this product, we were like, Oh, we looked at each other like, oh, no, we're two non technical people trying to do this.
Katie Bramlett
But we persevered. Anyway, we're like, we're gonna we're gonna make this happen. So we have a chief technology officer who's absolutely incredible, incredible. We hired a a person who's running our product now who has lots of product experience, great product rigor, who's been in multiple fitness companies. So we really have a lot of faith and honestly a lot of reliance on their feedback for how this experience will go.
Katie Bramlett
But I have I've been looking at, we're actually in the process of building the native app. And so I've been looking at a lot of the mockups and PRDs and everything before we before we push play, and and I'm actually pretty impressed with their ability to make this simple for the user experience. So I actually Jury's out. But I have a lot of hope and faith, given our current team's skill set and work history that they're going to be able to put something together that's really helpful, really useful.
Steve Washuta
Do you have a particular demographic you're either aiming for or that you see is clinging to this? Or that you hope to get on the app? What What is your thought about the type of person who's going to be using it?
Katie Bramlett
Yeah, well, I mean, the reality of our product is that someone can be coming from physical therapy, all the way to professional athlete can use our product. In fact, our next venture is partnering with physical therapy offices to use this as sort of a dish of affordable program that someone can can join once they've been discharged from physical therapy.
Katie Bramlett
But essentially, at this point, we have a lot of females over 40. And a lot of people who are in pain they're like, so it's like 111, you know, cohort is I've done every diet and exercise plan on the, on the planet, and I'm just sick of feeling like crap about myself, and I just want to go down a different path. And then another cohort is like I'm in pain, and none of the programs address what I need to do this.
Tyler Bramlett
Yeah, yeah. Yeah. And that's just to highlight the scalability of what can he's talking about here. You know, when we designed this kind of movement matrix, the goal was at level one, which is the baseline of all the different movement patterns, I want this movement to be done by somebody who's laying in bed and can't sit up, right.
Tyler Bramlett
So that's the initial level, most of this is like tension drills and mobility drills that you're doing from a lying position that eventually graduate to a seated position, and then eventually graduate to a standing position and then become movement patterns that people are familiar with, right. But at the end of the day, I wanted somebody who could literally like be in a hospital bed, and can still do some of these movements so that they can actually get something.
Tyler Bramlett
A lot of people surprisingly, because we also do live coaching calls. That's another aspect of the program is we didn't want to just have a technical product. We wanted connection with our users, we wanted to see people face to face, we wanted to let them know that they're supported as well. And that community is so dang important in the long term.
Tyler Bramlett
When I get on these calls, Steve, it never ceases to amaze me how many people are in so much pain or have so much movement dysfunction, that even doing a seated movement pattern that most people would originally think of as very simple is challenging for them. You know, and one of the best parts about the product that we have, I think is that we're consistently telling people like, scale it down, go easier, go easier. You know, almost always in a workout.
Tyler Bramlett
You're being pushed in our workouts. You're almost always being told, do a little less, do a little less build a strong foundation. If we build a strong foundation, then we can take one step forward slowly. If we don't, then people get caught in this cycle is too That's too fast. It's one step forward, one step back, and you never make any progress and decades go by and you wonder why. So yeah, the scalability is really tremendous when it comes to the other
Katie Bramlett
side of that, at the at the hardest variation of what we offer is is really intense, like
Tyler Bramlett
ballistic unilateral movements that are incredibly challenging requires strength, flexibility, balance, coordination, all that stuff.
Katie Bramlett
Yeah, Tyler is the head trainer, and he had to film all of these videos. And that particular week, I remember when you were filming, you would come home and you would take ice baths. I was like, are you okay? So yeah, the spectrum of what we can offer is extremely customizable, and is really broad.
Steve Washuta
Yeah, I think it's, but even more important to modify down the modifier. There's a lot of trainers who can make things harder, there's not a lot who could make things easier. Yeah. And I think that's probably a problem in the industry is that people don't know the next step down to make it easier. So they forced their clients to do the movement, because they don't know anything else, right?
Steve Washuta
They're like, What do you mean, you can't launch? We'll just just do it, you know, if you're in pain, push through it, because they don't understand like, well, you can put a chair next to you hold the chair, right? Like, we'll find different ways to go about this move out. Or maybe you're not ready for it from a joint perspective.
Steve Washuta
We can work into this. But I think there's a there's a problem in the industry, like we talked about, I don't know how to solve it, we talked about this on this podcast all the time, is that there's a very low barrier to entry. And in some senses, that's good, because the cream rises to the top. But in a lot of senses, that's bad.
Steve Washuta
Because if you have a client who has a bad experience with a trainer, they may never go back into that space. So you know, I think, I think I don't know, I don't know how we solve that problem. I've talked about this on this podcast before, maybe you guys could speak to this.
Steve Washuta
You know, Tyler, I know you've been in the industry a while it's like, well, if you put a lot of parameters on it, and you make it really difficult also to become a personal trainer, you have like one organization, then you can't have people like Tyler and Katie, who are developing their own thing. So in some senses, you don't want too much regulation. Right?
Tyler Bramlett
Yeah, this is a great topic, Stephen. Thanks for bringing it up. I remember joining I was an overweight kid with parents who didn't exercise or know anything about nutrition. And you know, and I remember when I joined a gym, at 13 years old, my dad came with me and we were like, Let's all do it together, right.
Tyler Bramlett
And I kind of got bitten by the bug back then. And my dad went and got a free personal training session, guy worked into the bone, he got sore for seven days, and he never went back. Right? Never ever went back. And I'll never forget that moment.
Tyler Bramlett
Because as I started working with coaches and or with clients, I recognize that that's just a common thing. People think that people think that somebody coming in who's you know, 4050 years old, who's overweight, who has aches, pains and injuries is going to be able to do what they are able to do. And the reality is most personal trainers are, are failed athletes, right at the end of the day.
Tyler Bramlett
So they actually probably have like, incredibly natural gifts that most people don't when it comes to their movement, some of them do at least. And at the end of the day, I just I really despise that. So I'm a fan of an idea meritocracy, I'm a fan of conscious capitalism in a certain sense.
Tyler Bramlett
And I think that the cream will rise to the top. But I also wish that there was at least some more barriers to entry or some sort of testing parameters or, or requirements to to make sure that people aren't, you know, taking people down a poor road, because the reality is, when I used to work at a gym, what I would see is this, go on the treadmill for 15 minutes, and I'll speed up the treadmill while I'm looking at my text messages or my Instagram, right?
Tyler Bramlett
Then okay, let's come over to the machines that lock you into an isolated movement pattern, do three sets of 10 on these rounds. And then let's lay on the ground and like do some core stuff or like get you some cardio until you feel like exhausted and send you home, right? And the reality is most people come back to their trainers, not because of the quality of the training, but because of their connection with a trainer.
Tyler Bramlett
So it's really like how charismatic Are you? How good are you at sales? How good are you at listening becomes more important for the success of the trainer than their actual understanding of physiology. But there's another layer to this Tuesday, which I don't know how to solve either, which is like, you know, we can say that someone has to have credentials to be able to do this.
Tyler Bramlett
But for example, I'm probably not very highly credentialed compared to most people. But I spent a ton of time doing this, I've worked with a lot of really smart people, I've got a good eye for movement. And that's just something that comes to me in a more natural way, you could put 10 physical therapists in a room, and one of them is going to watch a squat and not know how to correct it, even though they have a doctorate in physical therapy.
Tyler Bramlett
They might know every muscle in the human body, but they might not be able to see what's actually happening in that human movement, right, which is differentiated from their knowledge of the human body. So there's a lot of layers to this that make it complex. And that's where when we started this, it was like, it was like how do we do this so well that people use our app instead of using a personal trainer. And that's kind of the focus that I've always been kind of and and along
Katie Bramlett
the way when we were developing the product and we said we really wanted to focus like with with the with a human being in mind, physically, emotionally, socially. And we had a good friend who has multiple physical therapy clinics and he is one of the smartest people I know when it comes to human human movement patterns.
Katie Bramlett
I thought if he approves our product, we will have we will set a new standard entered. And we're actually partnering with him as our test pilot for the physical therapy clinic. So I feel like yeah, it's it's difficult to say it's layered. It's complicated in terms of how we set this standard, we feel that we've done a pretty good job. But we you know, I understand that it's complicated. And I, we don't necessarily have the answer for how to reset this, this standard in this industry. It kind
Tyler Bramlett
of say one more thing, too, that just pops into my mind, one of the things that we did, it was a little bit of an afterthought, but it actually ended up being incredibly useful is we were thinking about what do we what do we quantify for the user, because all fitness apps are like calories and like quantity of workouts, and one of the things that we wanted to do is not necessarily encourage somebody to come back more often.
Tyler Bramlett
So when we do product iterations is not focused on how do we get a user to use the product more, more, more, more and more workouts more, more, more, because that's not always what the user needs, right? And in the intake quiz, we asked them questions about, you know, how many times a week do you have availability to work out how many times a week do consistently workout, and then we don't just give them what they think they need, we actually scale back to where they're actually at.
Tyler Bramlett
If they don't have consistency, right now, I'm not going to give you five workouts a week, I'm going to give you two, you know what I mean? I'm going to give you something that's much more palatable, right? And so when we do product iterations we're focused on does this help people feel better in their bodies, right. And so part of our process is monthly, we survey our users a bunch of questions, and we created what we call the feelgood score.
Tyler Bramlett
It's gonna give people ranks on how your body feels, how much energy you have, and how much sleep and recovery you have, as well as your self confidence, right. And so we're kind of measuring these outcomes.
And over the course of the first 30 days of somebody actually using our product, we're seeing a 17.9% decrease in aches, pains and injuries, increase in self confidence, increase in better quality of sleep and increase in energy levels. And the plan on the back end is to contextualize this even further.
Tyler Bramlett
So if somebody comes into our product, and they identify as having a particular injury, as we create more contextualization of the product, not only kind of give you a shoulder pain program, with specific movements at specific levels for you, but I can actually AB test that outcome for people who are coming in shoulder pain, and I can ask them at the end what the outcome was for them.
Tyler Bramlett
So we can actually start saying with data, definitively, this sequence of movements and workouts gave a person a better chance at increasing their shoulder mobility, decreasing their pain than other sequences of workouts, which is something that most trainers just don't ever have enough data to be able to do.
Steve Washuta
Yeah, it looks like you guys really have a wholesome kind of three pronged approach, you have the psychology nailed down where we're not going to overwork people, it's not about how much you come on the app.
It's not about being obsessed with this, it's about using this for your overall health, you have the what I call like, the direct trainer approach, which is the anatomical sleuth, you know you can look at the body and really see what's going on.
Steve Washuta
You have more of the sort of demonstrative what I call like the entra trainer, like you still need to be creative, right? It can't be a physical therapy session, you still have to have creative exercises, and a dynamic aspect to it to get people to enjoy it, you sort of hit all of those areas. And I think that's, that is really the golden ticket.
Katie Bramlett
We've also and I'll say yeah, like the workouts, I don't want people to come in and think it's just like, it's not like you push play, you get to select Custom custom select your music stations, like it's a workout. But behind the scenes, we really care about your body. And we really care about how we're presenting that workout.
Katie Bramlett
And what the foundation of that programming is. There's also a social piece, like coming in and saying the scale is not the number one measure of your health and wellness. In fact, it's actually harmful for a lot of people psychologically, bringing some sort of this kind of new shift in values is a big deal. And people come in and they like instantly are like, well, what's the diet?
Katie Bramlett
And what's the plan. And I'm like, you don't have to worry about that here. So we actually also have live calls throughout the week. So Tyler does a couple live calls, we have another we actually have a physical therapist who does another live call. So when people have questions about their body, they can get a live person to talk with him about what's going on.
Katie Bramlett
We have a we shape podcast where we talk about a lot of these social and emotional and psychological things. And so we have a podcast discussion call every week where we can break down more specific topics and how they're impacting the greater whole and our community.
Katie Bramlett
And then we have community support calls where people just literally jump on a call and have one of our coaches and we just talk to each other. Yeah, I and so we find that this combination is really the full package for addressing the whole person. And we're noticing that people are having some pretty big transformations with this approach.
Steve Washuta
I talk about all the time with my clients and then people like you know, I help young personal trainers sort of like advance in their career.
I wrote a book called fitness business one on one, what the certifications don't teach you and one of the most important things is the update phase. Right? Katie comes to me and says, Hey, I'm having a really bad day. I didn't sleep last night. I haven't eaten in 18 hours.
Steve Washuta
And you know, I have a lot going on at work. It's like well, I'm not going to give you the difficult workout that we had planned. I know you can do it physiologically you can do it but it's probably not best for you right now.
Maybe it is maybe I know you as a client and you are you do need to be pushed at this given time but like understanding the person and putting a little bit more psychology behind it is isn't important. I don't think people put enough effort into that certainly I haven't ran into any sort of app. That's that's done that in any on any proper scale,
Tyler Bramlett
you say some something there, I want to touch on those deep. And this is what's powerful is that when we started building this, and the concept of a phone, being able to do a better job than most trainers, right, people kind of laugh at that concept, right.
Tyler Bramlett
But in my head, I was just like, every trainer has a decision matrix, they have a system, a decision matrix that they're using to make decisions for the end user. And so it's just about coming up with a baseline decision matrix that we feel is really good.
And then being willing to say, Let me think about a different decision matrix, or let me get other professionals to weigh in on these decision matrixes.
Tyler Bramlett
And let's actually test the outcomes of those decision matrices to see which ideas rise to the top right. So at the end of the day, we're trying to use that collective data as well as information from professionals like yourself, myself, other people out there who have way more experience than me in some of these particular areas, to be able to identify the direction that we're going with the company.
Tyler Bramlett
So I really view it as that idea of meritocracy, like what rises to the top is what actually works for people. I don't care if it's none of my ideas, I just want it to be the best outcome for the individual user.
Steve Washuta
Have you looked into how down the road is can be tough question here? How AI could potentially fuse with what you guys are doing? Have you dabbled in any of that yet, I can tell you that I in the background just for fun.
Steve Washuta
I have an AI program where I'm building like an AI personal trainer, I only feed it proper information and proper, like videos and images and stuff from me. Then I could ask your questions, and it'll answer. So I'm trying to basically build myself inside of AI. Have you thought about how that can integrate into your business? Yeah, absolutely.
Tyler Bramlett
You know, we've been producing content for such a long time that one of the things I think will be really useful is for, you know, an AI and model to be able to digest that content, ideally, visually, right. At the end of the day, you know, when I do these live coaching calls, it's really the same things over and over again, it's just simple deficiencies of movement that you constantly see over and over again, right.
Tyler Bramlett
It is about trying to give somebody the right corrective, or the right movement that brings awareness to them, of how they're doing it wrong. Because as you know, like, you can show somebody something, and then they just can't get it right, or they forget about it or whatever, right.
Tyler Bramlett
In the long run, you know, I think this would be a really useful part of the product where they could ask their virtual trainer, like, hey, pause, the workout like this is hurting my shoulder, and the virtual trainer is able to like address that particular issue right there and help them understand what it is that they're doing wrong.
Tyler Bramlett
Because another aspect is tools, you can even do the movement, right? In terms of like visually, but you might not have access to a muscle that's supposed to stabilize a part of your body, right.
And so even though you're doing it right, visually, if you're not properly firing the muscles, say around the shoulder blades, or in this radius, or whatever to you know, bring your shoulder into the proper position, then you could look like you're doing it right, but still cause shoulder pain at the same time. Right.
Tyler Bramlett
So I think that's definitely a potential future. And then also, with the selection of the particular movements as it relates to being able to test outcomes.
I think there's a lot of opportunity there for machine learning and AI models to be able to do that math for us and start understanding, hey, when we move this here, when we move this there, it's getting it's it's getting a better outcome for the individual user.
Tyler Bramlett
I think the core of it is giving it information, and then making sure that the people are saying, Yes, this was better based on the guesses that this model was making versus, you know, the model itself, saying it was better or worse, right?
Katie Bramlett
Also, I think that there is going to be an element of like, we're human beings, and we are social creatures. And we really do desire community.
So I can't really emphasize enough, I know that we have this incredible product, and we're really adhering to the physical needs of people.
Katie Bramlett
But that's only half our product, the other half of our product is really rooted in a community of people who come together for a level of social change in the fitness space.
So that is a huge pillar of what we're doing. And I don't know that we're really ever I mean, you need it, you need to have human interaction with other people and support one another and have a community. So I want to
Tyler Bramlett
edify that real quick, because we do these 30 day feel good challenges that we do for our community for free, right, and almost everybody who we actually, you know, talk to you after the challenge, like I saw, like a free. You know, feel good challenge, and I want to lose some weight, right. And so they like sign up for it.
Tyler Bramlett
Then, by the end of it, you have someone who's making 60 year old and she says, You know, I signed up to lose some weight. And I realized I've been neglecting myself for 60 years, and I constantly serve everybody else other than myself.
And when I do show up for my workouts is because I hate myself, not because I love myself. For the first time in 60 years, I look at myself in the mirror, and I can appreciate my body.
Tyler Bramlett
And I want to show up from my workouts from that place rather than place of self judgment. And like that's the stuff that just like, absolutely warms my heart. I have two daughters.
I do not want them to grow up in a world that's constantly telling them to judge themselves. And making them feel bad because they don't look at this standard.
Tyler Bramlett
Like we said that changes every 10 years, right. I want them to show up understanding that the most important thing. if you want to live a happy life is show up for yourself. Love yourself and then you can actually spill that out onto others rather than doing out of pressure guilt, right?
Steve Washuta
Yeah, well said. So do you avoid all of those metrics? Like if someone comes on says like, hey, I want to know my body fat percentage, or like. I want to know how many like how many more reps I did hear us You're sorry, hide that from them completely. Did they still record that on their own? How does that work? So
Katie Bramlett
our product will tell them how many workouts they have been doing. We it's not like, like from the user experience, it's not like this huge number that pops up that we're focusing on to find the metrics that we're really focusing on.
Are you sleeping good? Do you have good energy levels? Are you out of pain? And do you have? Or is your self confidence improving?
Katie Bramlett
So when people come in, they, you know, sometimes people come in, and they say, I'm here to lose weight? And I say, that's, that's, that's fine.
You know, I think I think what we're really trying to offer is a safe judgment free space. Whatever journey people need to be on. We're just supportive of that we don't really have a particular goal for them.
Katie Bramlett
Can you connect with yourself a little bit more through our community? So that you can better decide what you need, versus what people say they think you need.
Connection with self and tapping into those deeper parts of our being. It is what allows us to feel confident in our decision and our behaviors.
Katie Bramlett
We just kind of are accepting of people who come in, and they say, I want to lose weight, or I want to have. And we say, maybe that will happen. But we have been through this 1000s of times with 1000s of people.
And this is what we've learned. And so if you're interested, I like to ask people like what have you tried in the past? And it's usually the same thing in a different way. And then my follow up question is, how did that work?
Katie Bramlett
And so like, don't do it, maybe try a different way now. This is an opportunity and, and usually within 30 days, then people go, Oh, okay, I see what you're doing here.
It takes it takes a little bit of time. It's, it's there's that there's a heavy educational and self awareness piece to our product. People are pretty open. Once they've discovered they have been doing the same thing and not getting what they want for 1234 or five decades.
Tyler Bramlett
I just want to elaborate on one thing. Why do people start a fitness program? Maybe a very rare amount of people, it's because their doctor told them they need to otherwise they're gonna die early or something like that.
But 99% of people, they start a fitness program, because they want to feel happy, right? That's the ultimate outcome.
Tyler Bramlett
They want to feel happy with themselves. And the reality is, we've watched people lose 1020 3040 100 pounds, and still hate themselves, right. And getting to the ideal body does not make you feel good about yourself. And the people who often get there hate themselves the most. Right, that's what's fueling them at the end of the day.
Tyler Bramlett
What we're trying to do is flip that model on its head and say, regardless of where you're at, right now. We're going to teach you to start appreciating little aspects of your body that you feel comfortable appreciating.
Letting that grow to the point where it doesn't matter what weight you are. It doesn't matter how your body feels, we want you to love and appreciate yourself.
Tyler Bramlett
If you can come from that place, you can show up for your workouts with this intrinsic motivation, right. I'm showing up for me because I deserve it, I'm worth it, not because I feel shitty about myself. I want to look differently so I can receive love from other people outside of myself.
Tyler Bramlett
That has been a paradigm shift for most of the people in our community that we believe is not only going to affect them in the long term by giving them a sustainable program that can last a lifetime.
We believe as a business, it's a better model than burnin churn and you're going to change this and two weeks and this and that. You know, just it doesn't work, right?
Tyler Bramlett
Fitness is something that is so fleeting for most people and people chase fads. And we're trying to get out of the fad and get more into just Hey. Show up for yourself as an act of self care and start with what do. I appreciate about myself and start building that self love from there.
Katie Bramlett
A perfect example of this is people who have lost a lot of weight in our previous company we had. It was, it's the same story every time. The reality is the truth is if you can't have self acceptance today. And appreciation for who you are today, you will not cultivate that once you lose weight.
Katie Bramlett
So if we know that, we know that that's true, let's focus on the work around self acceptance and self appreciation and appreciation for your body today, because we know the other path and that one plus one is not equal to there.
So it's really just shifting the intention. And we find that that's really having the biggest impact on people.
Steve Washuta
I think for some people, it's you know, similar to an addiction, and they may never totally kick it, but they just have to keep it up front and consciousness.
Right. So like I have clients who I've worked with for 12 years. And, you know, I remind them that, you know, the scale doesn't matter. But that's just part of who they are.
Steve Washuta
Right? They're always going to step on that scale, I can't stop them. And at some point, I can't force them to not step on that scale. And here and there, they will step on the scale. And they'll say, Hey, Steve, I'm two pounds heavier than than I would like to otherwise be.
Then I have to remind them, how do you feel? You know? Like, why exactly are you working out? Do you know why we're doing this and then sort of like, you know, take a step back and give them more macro picture of everything.
Steve Washuta
I know that it's a fight that I'm not going to win necessarily, I know that this client is going to step on the scale for the rest of his or her life. And I just need to continue to work with them and that we're not going to, you know, absolve them of all of their issues.
There's a lot of psychological things going going going on that are beyond my paygrade if that makes sense, right?
Steve Washuta
I only have one hour with this client, but I think it's it's still our duty to remind them I'm like, You guys are saying that it's that there's more than that just there's more than just the scale. I'm not gonna yell at my client, I'm not gonna stop working with them, I It's like an addiction, and I have to I have to work alongside them,
Tyler Bramlett
you know, be interesting, Steve, I just had a thought. So I'm just gonna share it. If you printed out some stickers that said, you know, you're amazing, or you're beautiful, and you just gave them to somebody.
Let us just try some, you keep stepping on that scale, I want you to stick this over the thing that tells you how much you weigh, and just haven't looked down at that.
Tyler Bramlett
Let's try that for 30 days and see if that feels better for you. Worse for you, I'll bet you anything. If you just take their existing habit and replace a little element of it, that seems corny, you do that for 30 days, they're probably going to want to like get rid of the scale.
You know, it's the small moments of repatterning that make a big difference. When it comes to psychology,
Katie Bramlett
It starts this is what we talk with a lot of our members about so first of all, I you know, every day, I have this little mantra that I say that I just like put out into the world. It is like bring us people who are ready for reshape, because I don't really want to convince people to go otherwise, you know, go down our path. If they don't want to, it's fine.
Katie Bramlett
There's no judgement at reaching. I do think that it makes a huge difference if people are willing to do what I call crack the door to curiosity, because when you are just even able to open that door a little bit and experiment with different things.
There's a world of infinite possibility at your hands. So you know, I love to propose experiments we borrow? Are you available? Are you willing to be willing to try something?
Katie Bramlett
Can you just put your scale on the garage for a month and just see how you feel? One of the first things I did when we started going down this path is I got rid of all the scales in our house. And it was incredible, like, well, actually, it's a bummer, because we have a very big dog. And I'm always curious how much he weighs.
Katie Bramlett
But, um, but it's like, it was because I was willing to see what would happen if I tried that. So it's a willingness. It's, it's, it's a, it's a decision to crack the door to curiosity. And I remind people, that's where all this starts. That's the foundation. That's where this began.
Katie Bramlett
If you've tried the same thing in a different way, for 234 or five decades, and it didn't work, the only thing that will make a change is your ability to be willing to crack the door to curiosity. When you do that, you open in so much potential and so many opportunities to try something else.
Tyler Bramlett
And just just like movement, right? How do you repattern movement, repetition, and awareness, right? How do you repattern psychology of self hate, repetition and awareness? It's the same thing, right?
At the end of the day, when we're doing the workouts, we're giving them a tool, but we try to give them tools, like when you walk by the mirror, first bring awareness to what you're thinking about yourself, because it's probably going to be a lousy thing that you're gonna say,
Tyler Bramlett
Now, would you let your would you if you heard your best friend, say that out loud? What would you say to them? Right? And then don't, don't jump straight into self love.
That's probably bullshit for most people, they're not gonna be able to go there. Just appreciate something about you that you can genuinely appreciate, like, Hey, I woke up today, and my body breathed for me all night long.
Tyler Bramlett
And my heart's still beating, you know, and then start there and build that slowly. Right? So again, it's it's all the same. It is just neuroplasticity, most people think that they're where they are because of all this conscious choice, but most of its repetitive patterns.
So we're trying to step in and break the patterns as it relates to movement. And as it relates to psychology.
Steve Washuta
Yeah, there's a big psychology component of awareness that you guys both already hinted on. And it's that some diets and exercise programs work according to the people. And then they fail, and then they work and they fail, and they work and then they fail.
Steve Washuta
So they think, Oh, I just have to continue to do this. I just have to go on longer, right? I did Orangetheory and keto for a month, and I lost 30 pounds, and I felt a little bit stronger.
But then I stopped doing it for three months. And then I did it for a month and I stopped doing for three months.
Steve Washuta
Now I just have to continue to do it. It is like no, no, that's, that's not that's your whole plan was wrong in the first place right then, and you can't stick with this, you can't adhere to this.
And you're not learning enough about yourself. And you're just looking at, again, the gamifying numbers, and you're following restrictive diets that you can't necessarily adhere to.
Steve Washuta
Ultimately, it's that's the really the hard part, I think, for people in the health and fitness industry and trainers. That is what you guys are saying is that, I know you think that you just need to do this thing harder or longer or more. But but your whole perspective in the first place is just out of whack. And we have to kind of like, retrain you as to what health is
Tyler Bramlett
what people are saying about internally that they don't even realize is I don't hate myself enough to be consistent. Right? If I only judged myself more, I would be more consistent. Right? And it doesn't work. Because you're coming from a place of lack. You're coming from a place of scarcity of like self hate. Are you going to ever continuously show up for yourself if the root of it is self hatred?
Tyler Bramlett
No, you're going to always abandon yourself because your identity is wrapped up in who you believe you are. If we can change that, to that small amounts of appreciation, awareness and start to build that over time. Now you show it for your workouts as an act of self care rather than self judgment.
Tyler Bramlett
My favorite way to think about this as people brush their teeth, because they want their teeth to be cleaned, right?
You don't brush your teeth because of self judgment. How do you show up for your workouts in the same way? Like I deserve this? I deserve to feel good. I deserve to you know, transform the way my body feels, you know, so
Steve Washuta
Well, you guys are doing amazing things. I will certainly download the app when it's out I'm gonna go check it out on the desktop and fool around with a little bit.
I appreciate all you guys are doing in the industry. Why don't you let my listeners know where they can find more about we shape? And then maybe if they have questions for you guys specifically Katie and tell her you can give your Instagrams or whatever else that you use on a regular basis.
Katie Bramlett
Yeah, so we're on all social platforms we have two social handles at we shape is all content related to movement patterns at reshape podcast is all content related to sort of this social psychological change we're trying to evoke.
We actually have a special link for your listeners, if they want to give our product a two week free trial, they can just go to WWE shape.com forward slash truly fit.
Katie Bramlett
Honestly, if you're in our product, Tyler and I each lead live calls and you get direct access to us.
Getting the product to try for for a couple of weeks for free gives you that opportunity to actually connect I lead the podcast discussion calls and highly leads one of the movement q&a calls. So that's where you can that's where you can actually physically access us.
Steve Washuta
I guess that had been Katie and Tyler. Have we shaved thank you so much for joining the truly free podcast. Thanks.
Steve Washuta: Thanks for joining us on the Trulyfit podcast. Please subscribe, rate, and review on your listening platform. Feel free to email us as we'd love to hear from you.
Thanks again!
CLICK FOR AUDIO OF PODCAST